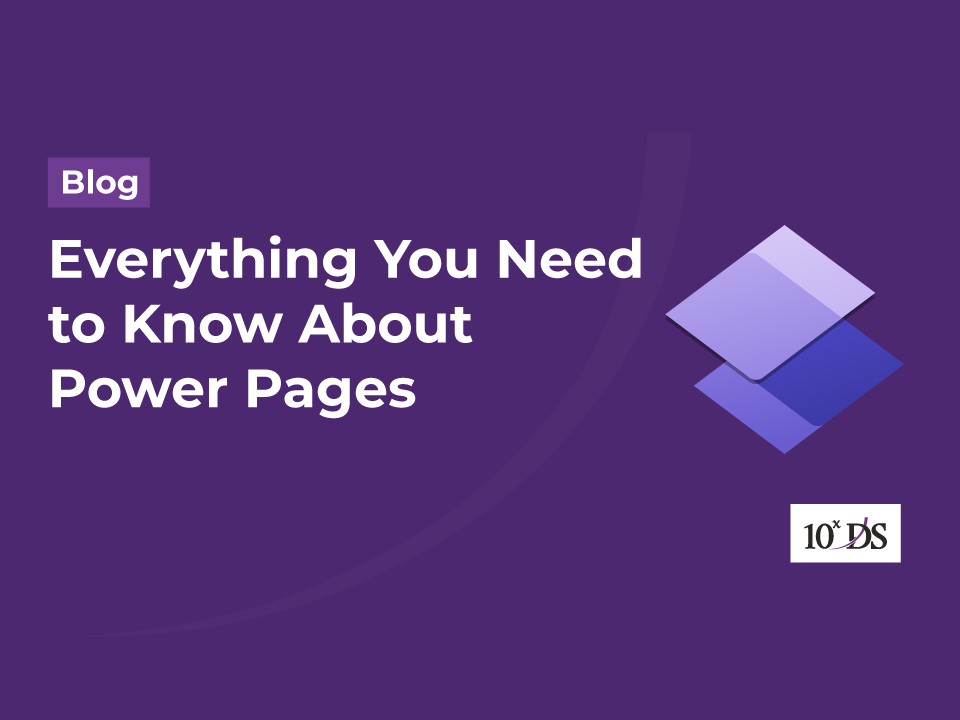 Everything You Need to Know About Power Pages
The developments and advancements in the field of technology have made several processes and aspects of work and daily life easier. Developing a website used to be complicated until a few years ago, but now there are simpler ways to create a website in just few minutes.
Microsoft Power Pages, for instance, is an ideal platform for business website creation. The most noted advantage of the platform is that it runs on a SaaS (Software as a Service) platform and its low code. It offers enhanced security and top-notch quality, features that are essential for enterprises looking to create websites.
Power Page as a Standalone product from being part of a bundle
Earlier, you would not have been able to find Power Page as a standalone application. It was bundled with Microsoft's Power Apps Portal (Power Portal). To roll out as an independent standalone product, the tech giant has added few useful features to it such as a new layout, user interface, and so on.
When it was part of the bundle, users had to have a bit of technical background to use some of its features. But now when you have it as a standalone application, even if you have very less technical knowledge you can easily create websites. With the help of Power Pages, you can develop and launch business websites that enjoy seamless compatibility across platforms, operating systems, and devices. Power Pages consists of a variety of advanced templates which users can customize according to their unique needs.
The state-of-the-art digital studio that it comes with allows you to enhance the visual experience. There is also a learning hub that is included in the Power Pages. The purpose of the learning hub is to enable the users to set up sites without taking too much time. A complex mechanism for configuring the entire thing without adequate instructions would be a big challenge for users with no prior technical knowledge or training.
Power Page in the process of improvement
Power Page is still in its nascent stages, going through a process of development. The existing one is a preview version. It is an outgrowth of the existing Power Apps Portal. If you are an early user of the service, you can test features like Design Studio and templates now and explore your unique experiences and share them with the developers. Microsoft is planning to issue Power Pages for the general public towards the end of this year.
Transfer of features from Power Apps
Power Pages are to inherit several capabilities and features from Power Apps. This includes platform capabilities, developer capabilities, and site admin features.
Quick web app development through Power Pages
With the help of Power Pages, building a web application becomes much easier. While using this, you can simply forget about using traditional access-based tools. Another great benefit of Power Pages is that you do not have to migrate from your existing data models because it works seamlessly on the cloud-based Dataverse ecosystem.
Since a visual designer that runs on the web is used for application development, it doesn't stop you from tweaking the layouts. Additionally, it supports attaching links to the data services and attributing customizations that you want to incorporate into your web development.
Express Design
According to some studies, by 2025, more than 70% of apps, particularly those used in the enterprise segment, will contain low codes. Power Apps Express Design is one such development that promotes this. It will transform the way machine-learning-based applications and services work.
Today, there are hundreds of start-ups offering web design services. But, when you use Microsoft pages, there is no need of using any extra products or services. There is strong integration between Power Pages and other services like GitHub, Visual Studio Codes, and Azure DevOps.
When it comes to application prototyping, the most significant tool that can be considered in this context is the Power Platform. Until recently, people used PowerPoint as a wireframing tool. It enabled users to add active buttons to presentations and convert them effectively into visual presentations and prototypes.
Though it enjoyed many benefits, there were several drawbacks too. Power Apps Express Design allows one to enjoy all the conventional features that Power Points enjoyed. In addition to that, it enables them to go a step ahead. From mere visual presentations, users can now effectively work out active applications with sophisticated interfaces.
The image analysing and making of a workable UI from that are effectively carried out in the new tools. There are no changes in the type of techniques used for these. With the help of tools like Figma, you can extract a labelled sketch and process that later.
Conclusion
Despite the huge number of web design tools and services out there, there is still a growing demand for a more inclusive, integrated, and low code-based service. Microsoft Pages brings to the table everything that such a proposition would demand.
Talk to our experts to help organizations accelerate growth, enhance efficiency, and enable innovations using Microsoft services, products and tools.