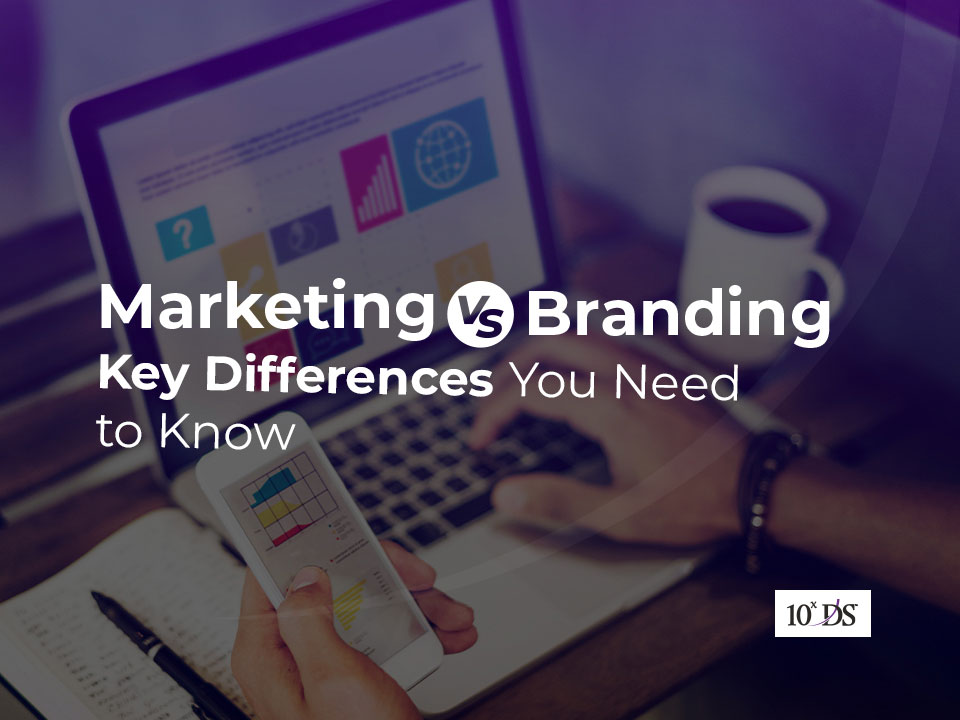 Marketing vs Branding: Key Differences You Need to Know
Digital Marketing is an umbrella term for various aspects connected to online marketing and branding leveraging various digital channels to reach customers, prospects, or your target audience. Digital Marketing plays a great role in both marketing as well as branding of a business. However, there is a common misconception as people often interchange branding and marketing.
So, let's understand both these terms individually.
What is marketing?
Marketing is a more familiar and understandable concept for people as its commonly used. It is one of the most extensive concepts encompassing several strategies, methods, techniques, and tactics people use to create your brand and reach your targeted audience. Apart from the traditional marketing approaches, there are various strategies such as online ads, social media marketing, Search Engine Optimization (SEO), Search Engine Marketing (SEM), email marketing, affiliate marketing, re-marketing and several others.
What Is Branding?
It is quite easy to confuse branding with marketing as they both serve the purpose of reaching the audience through various channels. However, branding is a far more complex and dynamic concept and practice involving creation of a strong, positive perception of a company, its products, or services in the mind of a customer. There are several elements and aspects such as logo, design, brand colours, consistent theme, brand messaging and others, used throughout all marketing communications to create and convey a brand. Branding when done effectively helps companies better differentiate themselves from their competitors and cultivate and grow a loyal customer base. Branding communicates promise, interactions with the audience and delivering it. Branding aims for long term dedication to be consistent with the vision and mission of a business. For instance, when people buy Apple iPhones or Nike shoes, they believe in the quality of the product. To bring this assurance of quality and gain customer loyalty it took these companies years of strong and healthy presence in the market and consistent delivery of quality products. This trust the brand builds through their products, quality service, consistent messaging and uniform brand themes can be summarized as the branding of a business.
Key Differences Between Branding & Marketing
While creating a marketing strategy for any company, creating a brand, and branding in itself becomes the starting point. You build your strategies by placing the company's brand at the core. No matter how big or small the company is, before you develop marketing approaches, strategies, techniques, plans and tactics, it is quintessential to understand who you are a company and how can you define yourself as a brand.
What makes you different and how and why should the customers choose you for your services or buy your products. It is your identity which holds the customers and lures them back for more. This is how customer loyalty is built.
For instance, you know where you buy your groceries, medications, and your regular hangout coffee house. They have successfully gained your confidence and allegiance. Though strategies for marketing can change depending on the needs of the business to adapt to new changes and market scenarios, branding remains the same and consistent. Even if there are some changes made to the brand, they would usually be to cater to your development or enhanced services available, but your basic ideals, beliefs, and the way you look at your brand are rarely restructured.
Conclusion
To put it simply, branding is who you are as a company and your identity as a brand and marketing is how you draw customer interest to sell your product or deliver your service. Another way to look at branding is the way you maintain your existing loyal customers and marketing as applying different strategies and tactics to bring in new customers.
Talk to our experts in 10xDS Digital Agency to learn more about how to build your own unique brand and take it to new heights with top-notch digital marketing strategies.