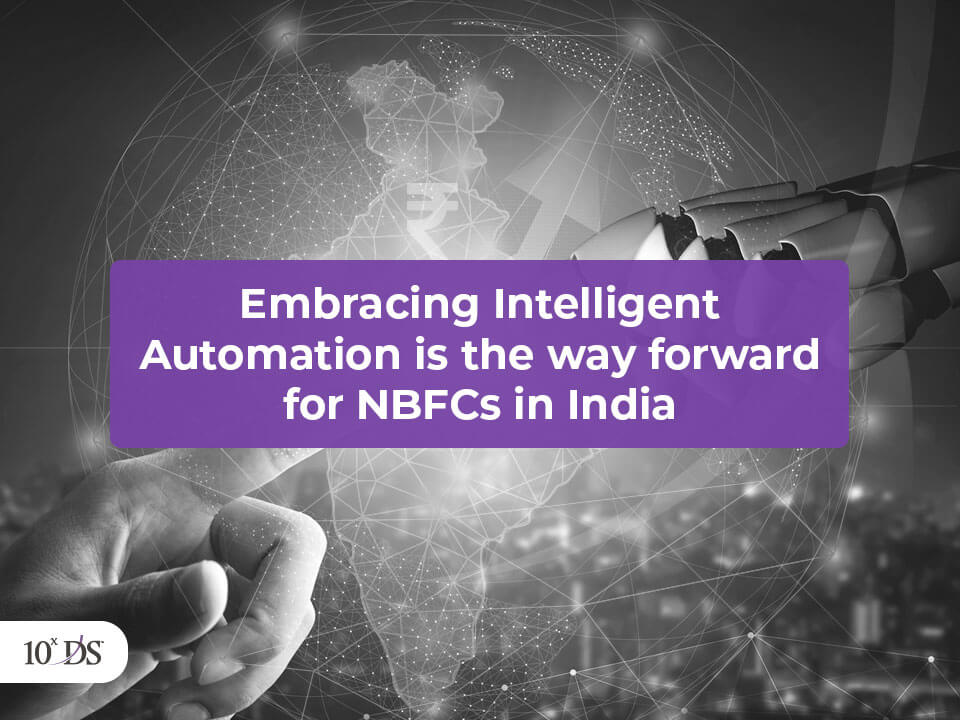 Embracing Intelligent Automation is the way forward for NBFCs in India
Automation, in its various forms, has been part of process optimization efforts in organizations across the globe for many years. These automations have streamlined organizational processes to be much faster and error-free.
Even though many leading organizations have embraced it as part of their strategy, in India several companies are yet to embark on this transformation path. Leaders face challenges to convince the internal stakeholders of the fact that automation has become a necessity to remain competitive. Being competitive does not only imply reducing cost but also aligning the organization to the fast-changing technology and market landscape.
Process automation as a technology has been evolving since its mainstream adoption in 2014. Robotic Process Automation (RPA) has gradually progressed to Intelligent Process Automation (IPA) or Intelligent Automation (IA) with Machine learning solutions under the hood.
---
A recent HFS study reveals that majority of the enterprises have planned to increase their automation budget in the wake of the COVID19.
---
Automation and smart analytics are now perceived as a necessity rather than a luxury.
COVID-19 will have long term implications to most of the organizations, especially to the BFSI industry. NBFCs in India face greater challenges in its customer connect and ensuring prompt repayment from customers. This problem is amplified with the operational challenges of implementing Govt policies like loan moratoriums. Lack of proper staff availability for critical operations affect the routine running because of lockdowns and other precautionary measures by the Government in curbing the pandemic.
Intelligent Automation a lifesaver in difficult times
The last couple of months have been posing serious challenges to most of the NBFCs on how to keep the operations up and running in the absence of their employees. There have been a series of policy decisions from the Government which the NBFCs are supposed to adhere to.
Intelligent Automation offers a huge opportunity for NBFCs to overcome the current situation to a larger extent. IA offers quick implementation in weeks where the stakeholders can experience the benefits from day one of the implementation. Major processes like Loan processing, credit evaluation, repayment rescheduling, loan follow up reminders, Compliance reporting, reconciliations, customer data update to applications, among others can be the low hanging fruits relevant to the current scenario to start with the automation journey.
Despite the broader perception of automation as a solution for rule-based tasks, over the period, the developments in machine learning and big data transformed automation to an intelligent platform. It can now greatly assist human supervisors in better decision making. The greatest advantage of the automation technologies is the synergy it produces when they coexist. For example, process automation generates highly structured and clean data for any analytics tool to consume and provide insights, which opens the black box of greater insights.
NBFCs can benefit from the ability to foresee situations, analysing the past behaviours of clients. Leveraging AI, NBFCs can detect fraud, possibility of anti-money laundering, create segmented marketing campaigns and more. Cognitive system automation can be effectively used to drive value proposition for the NBFC sector. Several information-intensive, error-prone and expensive, operations can be automated using cognitive system automation, reducing costs while ensuring speedy and precise service.
---
A digital strategy with an automation partner can greatly increase an NBFC organization's competency to tackle current challenges.
---
The post COVID era will see an exponential rise of sustainable onboarding of the digital workforce.
Choosing the right Digital Transformation Partner
Selection of automation partners is as important as your adoption of the digital workforce. The COVID-19 disruptions will redefine the criteria once employed for vendor selection. The most important competency for any vendor at this point of time should be the ability to manage and execute automation projects remotely. The onsite presence will be a thing of past, and organizations will be adapting to the collaboration tools for projects. This is going to be a win-win scenario as the overall cost of the project will come down and the right selection of automation partner will assure the achievement of project objectives.
Managing Technology and Workforce Co-existence
Technology co-existence is one such thing which leaders tend to miss when designing their digital strategy. Traditional human resource departments have well-defined employee performance assessment methods, which will not work in the case of the digital workforce. It needs customized tools which measure the performance by making use of process and execution data. Since the digital strategy should be long term and needs assessment frequently, the digital workforce information assists you in the task with real figures. One such example is the utilization level of digital employees (Digital workforce). This will help to plan upscale or downscale of digital employees.
Conclusion
Creating a digital ecosystem vastly enhances the operational agility and provides a competitive edge for the NBFCs to thrive and grow. NBFCs in India relies on its physical presence to serve geographies. Centralizing critical operations which normally happens at a branch (business unit) level and enabling Intelligent Automation can eliminate the over-dependency on human workforce.
Automating key operations in Indian NBFCs not only enables process standardization but also brings efficiencies and streamlines processes. It is very important to understand how emerging technologies like Intelligent Automation fits into your organization and where do you stand in adapting to the new normal.
Talk to our Experts to kickstart your Digital Transformation journey with Intelligent Automation and other emerging technologies!