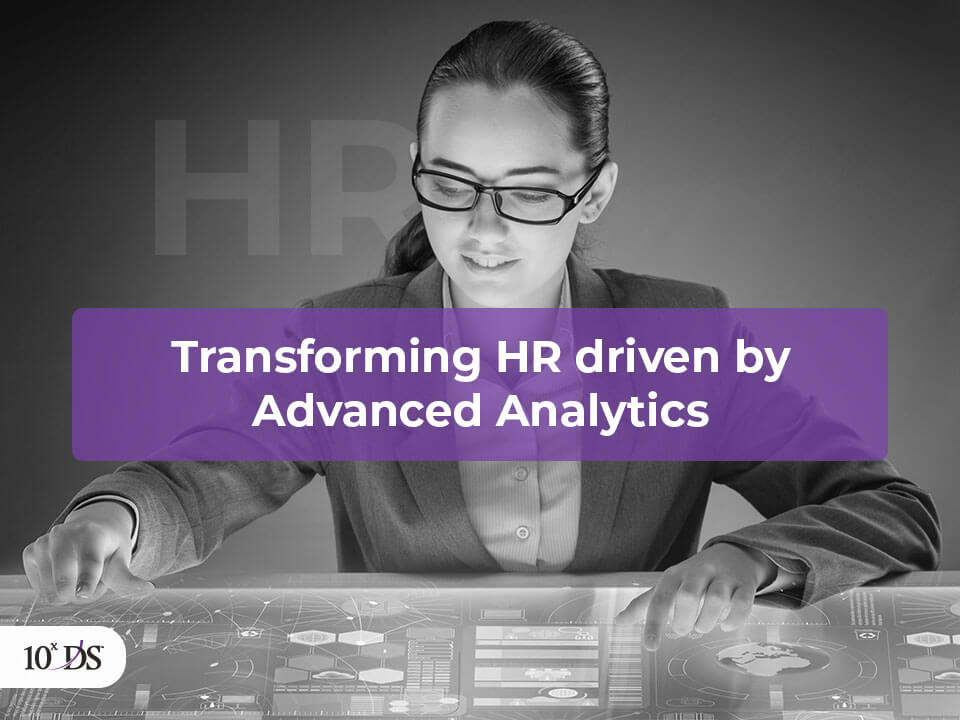 Transformation of HR – driven by Advanced Analytics
HR functions across industry sectors are employing multiple ways to retain the best talent. HR analytics gained momentum as a way of understanding various KPIs and to act accordingly. The need for access to quality data to understand the trends, patterns, diagnose root causes, and then taking informed decisions is essential for any HR function to be effective.
One of the major challenges is that the HR data resides in multiple applications and databases and the consolidation is tedious. Here are some important steps that would help organizations be more effective from an HR perspective:

Data from various functions like Recruitment, Trainings, Leave Management, payroll and others, could be consolidated to view previously unknown patterns and characteristics.

Drill down from aggregated views to detailed data and analyse further.

Search and filter based on specific function / role.

Monitor how the KPIs trend.

Take corrective and preventive actions.

Let's look at some of the analysis that helps to understand some key HR KPIs.
1. To understand the changing employee demographics
Employee demographics have a direct impact on business models and strategies of any organization though they may vary. Organizations need to adapt their practices in order to respond to changing demographics. Diversity alters pools of potential employees, and the needs of employees, as well as influencing broader business objectives like service provision.
Number of new employees joining and relieving are  key matrices to monitor closely. Trends with respect to both these aspects directly impact the operating cost of the organization.  Hiring and relieving trends each month and years can be drilled down to individual teams so that correction and prevention can be effectively done.
Employees by departments, location, age group, gender and other such criteria would give details with respect to what to expect from the workforce and how they may behave within the organization.
2. To curb hiring costs
Cost incurred in hiring can only be compensated if the employee stays and serves the organisation for a minimum period of time. The average days employee needs to stay is a key KPI for any organization to analyse and strive for achieving.
Organizations need to properly analyze attrition based on root-cause, department, location and others. Certain organizations are spending high on certain hiring sources but hiring via these channels may be too less to justify the cost. Gain actionable insights on : a) Cost of hiring sources against the number of employees hired via the channel, b) Recruiting cost against the average of span employees in the organization, c) Attrition rate against on-boarding experience will help organization to analyse and curb the cost.
3. To take informed pay decisions
Companies need to adjust their salary ranges frequently by performing a compensation analysis ensuring  your organization's pay decisions are in line with both external factors, such as current market trends, as well as internal needs. External factors include the abundance of talent supply in the  market, living cost of the location, among others. The internal ones include strategy of company, performance appraisal and experience.
Certain location may demand high salaries and the talent pool also may be limited. This is where compensation analysis can play a vital role to check if talents are available in an alternate location where pay demand is lesser.
4. To reward the performers
Who performs well and who needs improvement is a key question during the performance evaluation phase. High performers need to be rewarded and those requiring improvements need to go through corrections, training needs and other measures.
5. To predict employee churn
An employee with niche skills are harder to replace. It affects the ongoing work and productivity of existing employees. Acquiring new employees as a replacement has its costs such as hiring costs and training costs. And, the new employee will take time to learn skills at the similar level of technical or business expertise knowledge of an older employee.
Organizations tackle this problem by applying machine learning techniques to predict employee churn, which helps them in taking necessary actions.
Conclusion
10xDS is driving HR transformation by leveraging our expertise on data and analytics technologies and deep function experience to enable organizations to make effective HR strategic decisions.
Talk to our Experts to leverage our Analytics COE and jump on the data-driven culture.