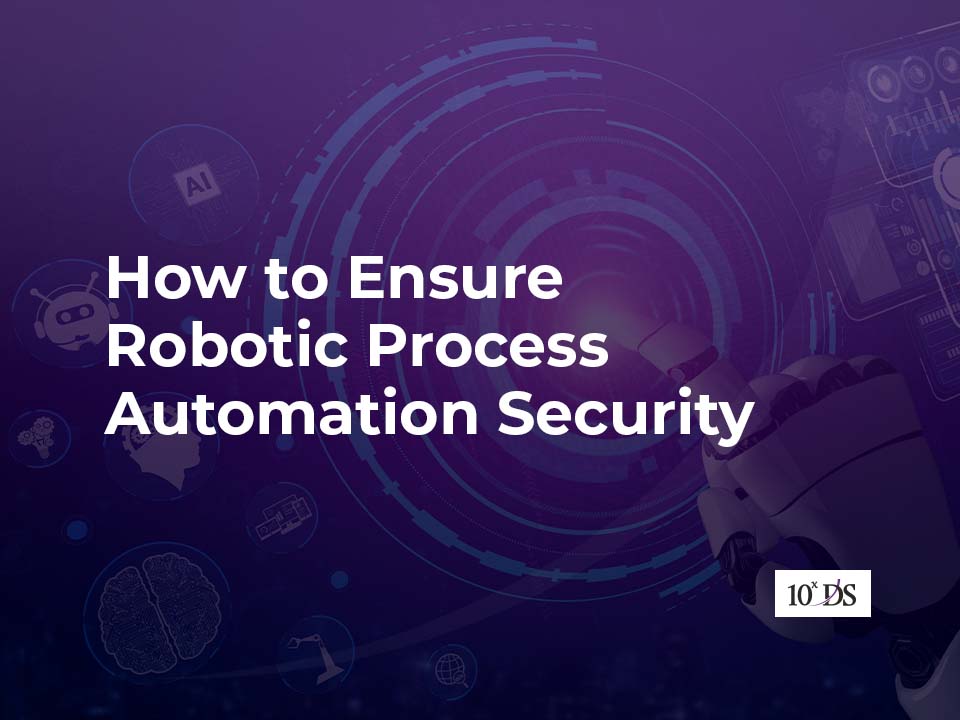 How to Ensure RPA Security (Gartner)
RPA (Robotic Process Automation) has gained immense popularity among IT leaders over the years. RPA can be easily and quickly deployed for automating repetitive business processes or tasks. There are many benefits of RPA adoption for businesses. The innovative technology helps organizations save a considerable amount of time and money.
However, it is important to remember that the process of RPA can be quite risky in some cases. This is mainly because RPA bots will be handling sensitive data and moving it across business systems for different processes. So, if the sensitive data is not fully secured, then it might get exposed, which can ruin the reputation of an organization.
According to Gartner's recent analysis, there are two major risks associated with Robotic Process Automation and they are fraud and data leakage. It also says that the customer data handled by the RPA bots or other sensitive business data like RPA bot credentials might get exposed if there aren't enough security measures.
The security frameworks and proper governance are essential for businesses to mitigate risks associated with RPA. Security and risk management leaders will be able to address security issues or risks in their RPA projects with the help of a four-step plan.
1. Ensure Accountability for RPA Bot Actions
Several organizations deployed RPA projects during the pandemic to automate menial tasks to reduce costs. However, a common mistake was made by multiple organizations, and it was that most of them failed to differentiate between bot identities and bot operators.
It is best to avoid this by giving a unique identity to each Robotic Process Automation bot and process. This will help to ensure dedicated identity naming standards and dedicated identification credentials to the bots and processes.
In addition to that, businesses should consider adding a two-factor authentication method along with password and username authentication to ensure higher security.
2. Avoid Abuse and Fraud from Breaks in Security on Demand
Businesses need to understand that the implementation of Robotic Process Automation will result in an increase in the number of account privileges, which will in turn increase the chances of fraud. Therefore, it is important for security leaders in an organization to restrict RPA access to what bots require to complete assigned tasks.
For instance, businesses that are using RPA script with a bot, which copies values from a certain business database and moves or pastes it into emails will need only read access, and not write access. Gartner recommends employing session management capabilities like video surveillance and screenshots for conducting forensic investigation and dissuading fraudsters.
3. Protect Log Integrity
Organizations will need to get prepared for the worst possible scenario when running a business. For instance, if the RPA security of an organization fails, then the security leaders will have to thoroughly review logs. Most enterprises generally feed Robotic Process Automation logging into a separate system, where logs are forensically sound and securely stored.
In addition to that, risk and security management leaders must make sure that the RPA tools offer a system-generated and complete log that doesn't come up with any gaps, which might impact the investigation.
4. Enable Secure RPA Development
Robotic Process Automation is not a one-time activity, but it is an ongoing process. The process will evolve for tackling different types of threats and vulnerabilities. However, several enterprises make the grave mistake of postponing security considerations for speeding up the deployment process, which is not a good move.
It is best to establish regular cadences and proactive dialogues between the business and security team, which leads the Robotic Process Automation initiative. This will include the creation of a risky framework, which will evaluate the entire process of RPA along with the individual scripts.
Having the right advisory and consultation from experienced people is instrumental to keep your RPA investments safe.
We provide advanced RPA solutions in Dubai and around the world and help enterprises accelerate digital transformation. Talk to our experts to uncover the possibilities of RPA with risk-free implementations and maintenance.