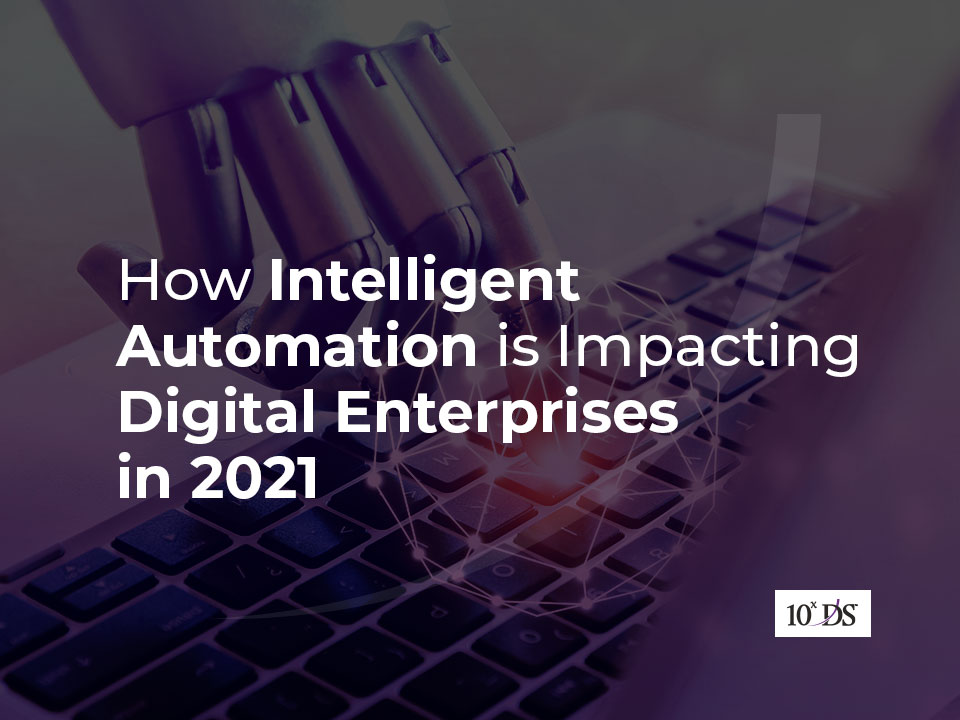 How Intelligent Automation is Impacting Digital Enterprises in 2021
It is no secret that the adoption of automation has been happening at an accelerated pace in recent years. Most modern businesses are on the lookout for intelligent automation tools for increasing productivity, solving business challenges, and boosting accuracy and efficiency. Automation will surely bring substantial benefits to businesses regardless of their sizes and types if implemented properly.
Intelligent automation is slowly becoming a technological wave for the digital transformation journey of companies. Intelligent automation also includes innovative technologies like Robotic Process Automation (RPA) and Artificial Intelligence (AI).
Intelligent automation is defined as an umbrella term, which brings together various techniques, tools, skills, and strategies that increase the reliability and predictability of services, reduces costs, and eliminates the need for labor. Some of the major benefits for businesses to implement intelligent automation are as follows.
Product and service innovation
Employee empowerment
Enhanced cycle time
Effective fraud detection and monitoring
Amplified workplace productivity
Higher process efficiency
Enhanced customer experience
High ROI and minimized costs
Augmented back-office operations
Most customers want a customized experience today because of the ongoing advancements in the technology field. Advanced analytical capabilities and deep learning can allow businesses to offer a rich and customized experience to their customers. These innovative technologies can be used not just to monitor your customer, but also to predict their next steps accurately.
In other words, intelligent automation presents an opportunity for businesses to ensure an improved customer experience. In addition, businesses will be able to easily deliver customers what they want and when they want. There is no need for human intervention when you are automating business tasks by using intelligent automation.
The Future Of Intelligent Automation
A recent report revealed that approximately 86 percent of global business leaders firmly believe that their companies should use this technology for the next five years. The business leaders are hopeful that the use of intelligent automation will enable them to gain a competitive edge.
Another report submitted by Gartner indicated that nearly 42 percent of CEOs have commenced the digital transformation process. According to the report, approximately 56 percent of the CEOs were able to enjoy numerous benefits due to the implementation of automation in their enterprise.
Is Intelligent Automation The Next Step In Digital Transformation
Companies that are automating important business processes will be able to eliminate the burden of time-consuming and repetitive tasks. This means that your employees will be able to focus on other innovative tasks. Intelligent automation is capable of helping businesses in a wide range of ways such as understanding unstructured data, excerpting information, and reading documents.
Businesses should also remember that there are multiple intelligent automation technologies, which will be able to deliver value to organizations and help them boost productivity. Some of the popular intelligent enterprise technologies available to businesses are speech analytics, predictive analytics, cognitive computing, IoT, RPA, chatbots, machine learning, and hyper-automation.
A McKinsey research revealed that businesses across multiple industries, which have been using intelligent automation were able to witness 30 to 35 percent run-rate* efficiencies annually. Here, run-rate efficiency is a metric used to forecast efficiency of enterprise's future performance based on current or previous data. For instance, taking quarterly or monthly revenue figures and then extrapolating them to account for one year. The increase in efficiency was due to the automation of 50 to 72 percent of the business tasks. As per the report, there has been a reduction in straight-through business process time.
Where Will Intelligent Automation Tools And AI Impact More
Unfortunately, several business leaders are still unsure when it comes to where exactly they should apply AI to their businesses for reaping maximum rewards. The integration of artificial intelligence solutions across different parts or sections of your businesses is not going to be cost-effective. In fact, businesses will need to make considerable investments in technology and talent upgrades.
Challenges of Implementing Intelligent Business Strategy To Organizations
The idea of implementing Robotic Process Automation or other technologies in your businesses might seem exciting, but it is easier said than done. You will need to implement it in the right way to reap maximum benefits. The implementation of RPA will surely help organizations to get rid of several mundane tasks.
Apart from that, RPA will also boost the efficiency and productivity of organizations. There are several challenges when it comes to implementing RPA in an organization and some of them are listed below.
Assigning internal responsibility
Competing priorities
Recruiting the right employees or people
Rapid technology changes
Lack of suitable vendors
Conclusion
Amazing breakthrough technologies like RPA, AI and Intelligent Automations are enabling digital transformations around the world, addressing challenges concerning business functioning such as labor shortage, processing of large amounts of data, and more. In the near future, it will become essential for most industries across the globe to adopt intelligent automation solutions to drive digital transformation.
Organizations should consider using SaaS platforms that combine AI and RPA to deliver value for better results across the organization. Intelligent Automation solutions offer some sure-fire benefits, helping organizations to significantly improve productivity, customer and employee experience, and save cost and time.