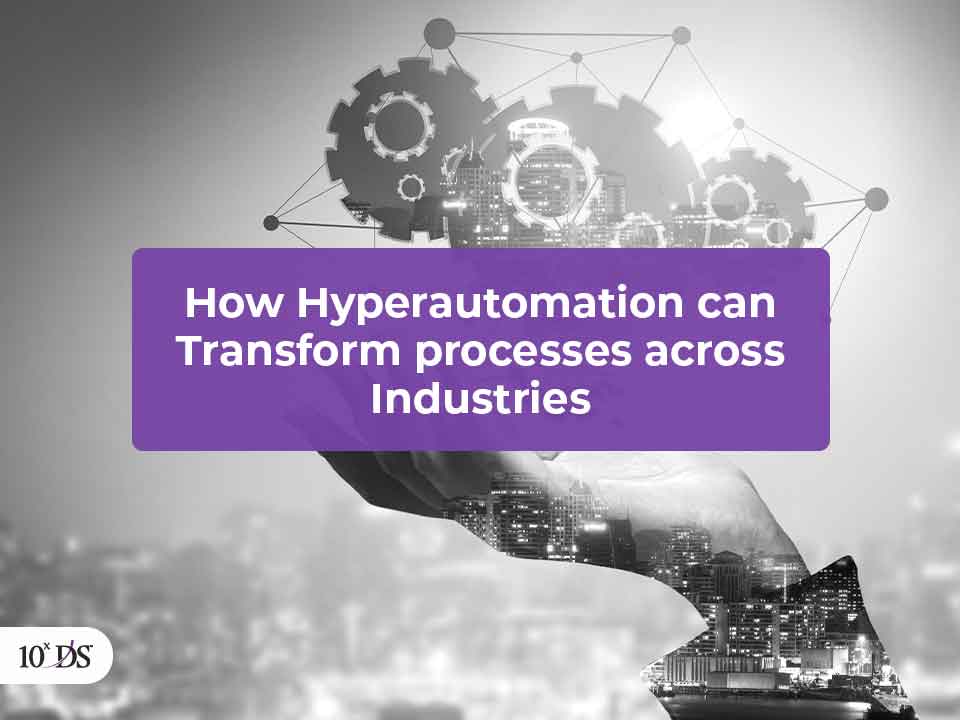 How Hyperautomation can Transform processes across Industries
If you have been following the latest trends in the exponential technologies space, or if you are an automation specialist, you have most likely come across the term "Hyperautomation". Gartner placed it at the top of its list of Top 10 Strategic Technology Trends for 2020, gaining lot of interest and buzz within the experts in the emerging technologies community and process enthusiasts.
As discussed in our last blog on Hyperautomation, What is Hyperautomation and How it can help Organizations, it is a concept where a combination of multiple digital transformation technologies are leveraged, starting with Robotic Process Automation (RPA) at its core to automate complex processes. Other advanced technologies include the application of artificial intelligence (AI), natural language processing (NLP), vision, speech, deep learning, process mining, advanced analytics, broader set of advanced tools and more. The integration of these multiple technologies enables end-end process automation, including even previously un-automatable tasks, delivering greater value and impact.
Hyperautomation Use Cases Across Major Industries
The integration of RPA, AI and other technologies together eliminates its individual shortcomings, enabling implementation of automation to processes that were otherwise challenging to automate. The problem solving becomes easier, with a wider set of technologies at disposal for building an automation solution for empowering processes. Hyperautomation will be useful for any sector, industry and function.
Here are some of the hyperautomation use cases across Industries.
1. Banking and Financial Services
Banking industry has a great potential for implementing Hyperautomation. Some of the ideal candidates include Regulatory Reporting, Marketing, Sales & Distribution, Bank Servicing, Payment Operations, Lending Operations, Back-Office Operations, Enterprise Support, among others. For instance, in eKYC process, an Intelligent Character Recognition solution enables handwritten multipurpose KYC forms to electronic forms in appropriate fields of KYC portals. These data are further populated in all other relevant systems.
Intelligent Automation solutions empowered by Al algorithms can efficiently monitor the transactions and proactively identify the fraudulent activities. Machine learning based predictive model built leveraging advanced modelling techniques can predict the probability of fraudulent transactions, minimising risks. Many Anti Money Laundering (AML) solutions today leverage hyper automation technology stack for prediction and prevention
Many banks or financial services have started using Advanced Analytics in application screening, for assessing the repayment capability of a customer by looking at various parameters which is usually impossible via manual screening. This reduces the probability of Non-Performing Assets in the future if it's screened in the application stage itself.
2. Insurance
The insurance sector has a large workforce engaged in routine, repetitive and manual intensive tasks. For instance, claims processing, which is the most critical process for any insurance company, can benefit a lot from implementing hyperautomation technologies such as Intelligent Automation. There is a huge number of stakeholders supplying information to the insurance companies manually. This information needs to be further verified and authenticated against user credentials while processing an insurance claim. The digital workforce can validate and compile information from multiple sources, tirelessly, with better accuracy and much faster than their human counterparts. Automating compliance checks and data validation enable much quicker claims processing.
Advanced Analytics can be leveraged to gain meaningful insights from data gathered from sensors, wearables, geographical and others. Predictive modelling techniques can help insurers calculate the risk probability and policy premiums for specific customer segments.
Machine learning technology can be used to expertly predict probability of claims. ML can process numerous variables for making accurate predictions. Insurers can offer competitive pricing and policies for select customer segments with such information readily available.
Insurance sector deals with many varieties of scanned and digital documents such as Life insurance applications, Claim forms, Disability forms, Change of beneficiary forms, Annuity account forms , among others. Turning documents into data for further processing is key in quicker process completion. This is where Intelligent Document Processing (IDP) comes in handy. Extraction, translation, processing, machine Learning, Human in the loop etc., becomes core components of IDP
3. Healthcare
In the healthcare industry, streamlining back-office operations can improve operational efficiencies, which in turn gives more time for medical practitioners to improve clinical outcomes and provide a better patient experience. Some hospitals have started employing Digital Nurse Avatars to interact with patients, as a first layer of support. These Digital Nurses ask relevant questions about their health and symptoms to properly guide them to care centres.
Automation can enable smart billing, by collating bill details from each department and consolidating them without any manual intervention. This can save a lot of time with faster bill generations and conversions to payments. Intelligent Automation using AI and RPA can streamline Insurance and Claims administration in hospitals. AI can identify Policy coverage and terms and a BOT can take up the work of submitting bills with necessary supporting documentation.
Advanced analytics can be leveraged to build clinical analytics capabilities and easy-to-understand dashboards using real-time data. This enables the delivery of effective treatments based on the best practices and best outcomes.
Medical transcription is another area where the use of machine learning algorithms allows voice recognition systems to transcribe speech requests into text. An ML model can be trained on several thousands of samples with different types of speech requests for better results and accuracy. This can save some valuable time of doctors to fill out the EHRs.
4. Retail
Retail sector is undergoing a paradigm shift with several e-commerce platforms and new entrants in the markets. Staying relevant in front of consumers has become the most crucial aspect for their business. Hyperautomation technologies can help automating several areas such as Order Management, Payments, Transportation, Warehousing & Inventory, Supplier Management, Risk Management, Procurement, Data Monitoring, among others.
With so many options available for customers to choose from, customer loyalty is tough to obtain. Loyal customers do expect special treatment and AI-assisted loyalty recognition methods can be very useful here. AI-enabled cameras could be configured to automatically notify the frontline staff when the camera captures a regular customer in the store premises, enabling the staff to personally connect with the customers.
Pricing Analytics is another useful way to stay competitive in the market. Digital Workforce can be assigned to track competitors' websites and prices in real-time, 24*7 to notify price fluctuations in the market. Various criteria and factors, internal and external, can be assessed to determine things that affect profitability. Data from multiple sources, such as social media can help analyse customer sentiments to improve decision making.
5. BPO and Customer Service focus Industry
This is a critical service for most product or services-based companies or the BPO industry. Agents spend more time retrieving information from multiple systems and manually uploading the data into the order management system, giving them less time to resolve customer issues. With intelligent automation, caller information can be seamlessly transferred and processed. It can reduce average call handling time and improve efficiency.
AI can be deployed in monitoring call quality and help CSRs understand customer sentiment and pulse in critical calls such as in insurance claims. AI can also help in filtering calls based on their importance, to bring down the cycle time on customer problem resolutions.
Companies can use advanced analytics to identify customers that are at-risk to churn and in order to improve their customer retention rate. Companies can proactively maintain customer relationships and reduce the risk of attrition over time, with the right use of advanced analytics technologies.
Hyperautomation propels automation to the next level
Hyperautomation increases the scope of automation, one step further. It is not just the automation of repetitive, rule-based and the focus is now more on knowledge work. We are looking at enabling more dynamic experiences. There are more technologies and tools at work here such as RPA, Advanced Analytics, AI and others, working together to solve complex problems.
For hyperautomation to be successful, organizations need to reconfigure processes, to incorporate more agility in the working practices and tools used. Last but not the least, the concept of work itself will change and the workforce need to reinvent and revamp processes to embrace hyperautomation and enable the integration of various technologies to the existing landscape.
How can you get started with Hyperautomation?
First and foremost, before getting started with hyperautomation, enabling interoperability, is very important. The tools and platforms should be scalable and work across systems. Moreover, the tools should be able to integrate with the existing IT and software landscape of the organization and should be non-invasive. With exponential technologies like RPA, AI, Analytics and others, organizations can streamline processes and empower the workforce to deliver greater efficiencies. Organizations enabling the flexibility and agility to reconfigure processes can work towards a hyperautomated future state.
How 10xDS can help?
10xDS has the right expertise and experience delivering RPA and hyper-automation solutions in Dubai and across the world. Our advanced technology COEs and flexible solution deployment methodologies can help gear enterprises for Hyperautomation.
Want to gain further insights into Hyperautomation or other 10xDS Digital Transformation solutions? Talk to our experts!