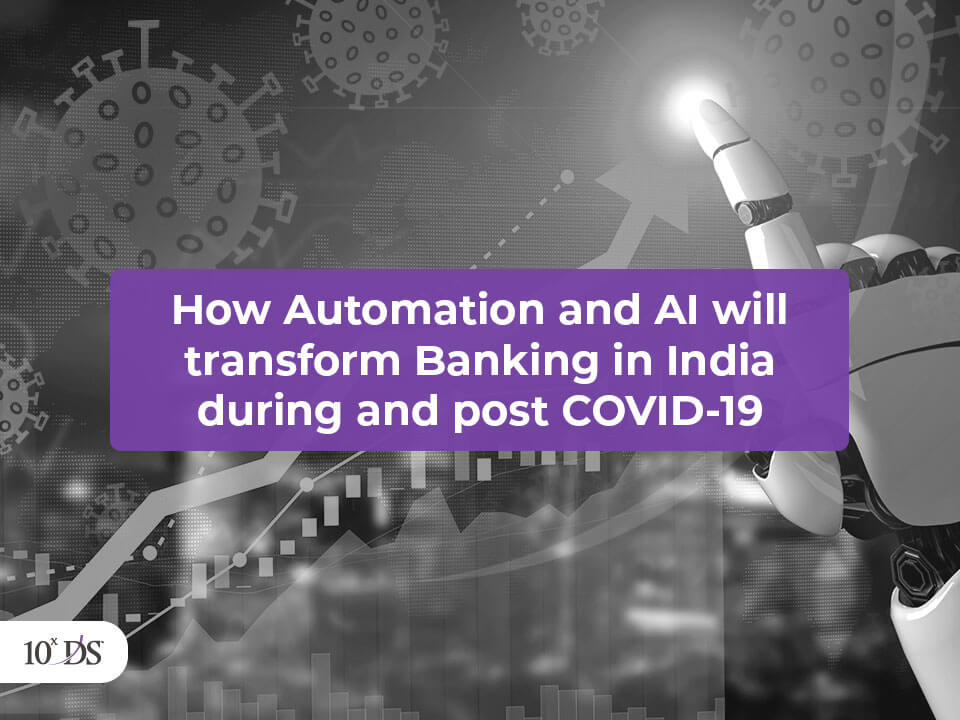 How Automation and AI will transform Banking in India during and post COVID-19
Banking has been classified as essential services in India. Understandably, amid this pandemic and lockdowns, banks and financial institutions are under tremendous pressure to ensure business-as-usual for all critical operations. The major impact of COVID-19 crisis is on the day-today operations of the bank and several banks have started evaluating ways to minimize the impact and test Business Continuity Plans. Working models are changing with several banks implementing work from home (WFH) protocols and looking to invest heavily in digital transformation initiatives to deal with the crisis. The early adopters have a lot to gain in terms of competitive advantage. Emerging technologies such as Intelligent Automation and Artificial Intelligence (AI) can be leveraged to drive digital transformations in Banks.
Industry 4.0 emphasizes the importance of automation to fast track the development and deployment of products in the Banking and Finance sector. Automation and AI has redefined work and enabled the digital workforce to free their time for more creative and innovative tasks. This has been in motion for some time now, with the digital revolution creating a paradigm shift in the banking operations and delivery of services to the customers through the digital mediums. The market for automation technologies such as RPA and Intelligent Automation are growing significantly and leveraging advanced technologies like data science and AI, can enable organizations to deliver smarter automations, creating more value. AI and Automation deployments can drive significant cost reductions, increasing revenue. Automating critical, highly repetitive processes for humans, enables reallocation of resources to higher-value work efforts to drive better efficiencies in organizations.
Coronavirus pandemic being global in nature, some of the operational challenges will be common worldwide. Organizations should rethink and develop operational governance strategies, work from home policies, effective response and communication strategies for clients and employees. Banks and financial Organizations should start evaluating and enhancing their digital ecosystem where all support and customer service processes leverage the modern digital methods such as mobile applications, use of conversational AI such as Intelligent Digital Assistants and more. BPO activities have a great potential for automation and considering the current scenario organizations should seriously consider implementing them soon.
Here are some of the key areas where AI and Automation can help the Banking and Finance Sector in India
1. Lending
The usual method of credit underwriting evaluates indicators such as a customer's repayment history, though is a decent predictor of creditworthiness it is not the best way to understand the creditworthiness of a customer. Several modern Banks in India have started looking at an individual's entire life and even their vast digital footprint to determine their probability of default. This presents additional insights into people with established credit scores and also more accurately predicts the creditworthiness of people without a traditional credit history. AI can empower banks with credit underwriting capabilities by developing predictive models to determine the risk, repayment ability, ideal interest and repayment periods. Banks can implement this by analysing the financial behavioural history of customers gained via account aggregators.
2. Wealth Management
Wealth Management has a huge scope of AI adoption. AI enables greater insights into clients providing enhanced portfolio construction. AI offers specific signals helping advisors in better understanding current and future financial needs of the customers. AI can leverage social information to tailor investment advice such as birth of a child or retirement from long term employment. Another area where AI can be very useful is in personalized engagements. AI can track the preferred forms of communication of the clients such as email, mail, phone calls, or texts to increase the probability of customer delight and enhance engagement. Another useful area is in enriching key insights.  AI can tap into the quantitative and fundamental investment analysis. The analysis takes in very large historical data sets and compare that to current market signals. Leveraging Natural Language Processing (NLP), Machine Learning (ML) and other technologies, this analysis approach use vast amounts of structured and unstructured financial and market data to deliver intelligent financial advice. Financial Advisors always face the challenge of providing optimized investment returns while remaining in compliance. AI offers insightful content, suggesting best timings to financial advisors and this significantly helps in giving more accurate recommendations complying to the internal policies and external regulatory requirements.
3. Transaction banking
AI enhances customer experiences -from delivering swift onboarding to payments processing. With RBI enforcing electronic KYC as a form of acceptance to open bank accounts, most modern banks today have become capable of delivering an end-to-end digital banking experience. When it is backed by AI, digital banking becomes more seamless and helps eliminating the need for a customer to ever step into a physical branch. Considering the current pandemic scenario, even Banks not having streamlined processes should assess and embark on the digital transformation journey to better serve customers.
4. Customer Support
Intelligent Digital Assistants (IDAs) are live chatbots or virtual banking assistants that helps in minimizing the dependency on human representatives, reducing the time spent on generic customer queries and invariably enhancing productivity. Especially amid this crisis, when most Banks are understaffed, IDAs can be really helpful in reducing the load on executives. Leveraging conversational AI technology, IDAs contextually understand and identifies the emotions and concerns in the text chat to respond most favourably. IDAs instantaneously addresses customer queries, possible grievances and enhances customer-satisfaction levels.
5. Cognitive system automation
Cognitive automation solutions can effectively drive end to end automation in the Banking sector as it empowers financial organizations to manage significantly more dynamic problems and inputs.  Cognitive automations manage unstructured data such as data from text, images, PDFs, scanned documents, natural language input or web content to enable enhanced performance with a significant reduction in AHT. Document processing is absolutely critical in the banking and finance industry. Cognitive automation can streamline banking services that are information-intensive, error-prone and expensive. It can benefit banks right from customer experience, loan processing to risk mitigation and wealth advisory.  Cognitive Automation can reduce costs, improve accuracy, enhance customer service, and scale operations efficiently. These benefits can prove to be handy especially in the present scenario when enhancing operational efficiencies may become a quintessential necessity to remain competitive.
Conclusion
These are challenging times and the pandemic will fundamentally change the very nature of work as we have known and experienced before. Banks in India, that can proactively adapt to changes and react the quickest will thrive and move on. No words can adequately emphasize the importance of embracing digital transformations in various areas of Banking.  Leveraging Intelligent Automations, AI and the exponential technologies, banks have a better chance of streamlining business operations and enhancing overall customer experience.
Talk to our Experts to kickstart your Digital Transformation journey, with Intelligent Automation, AI, Analytics and more.