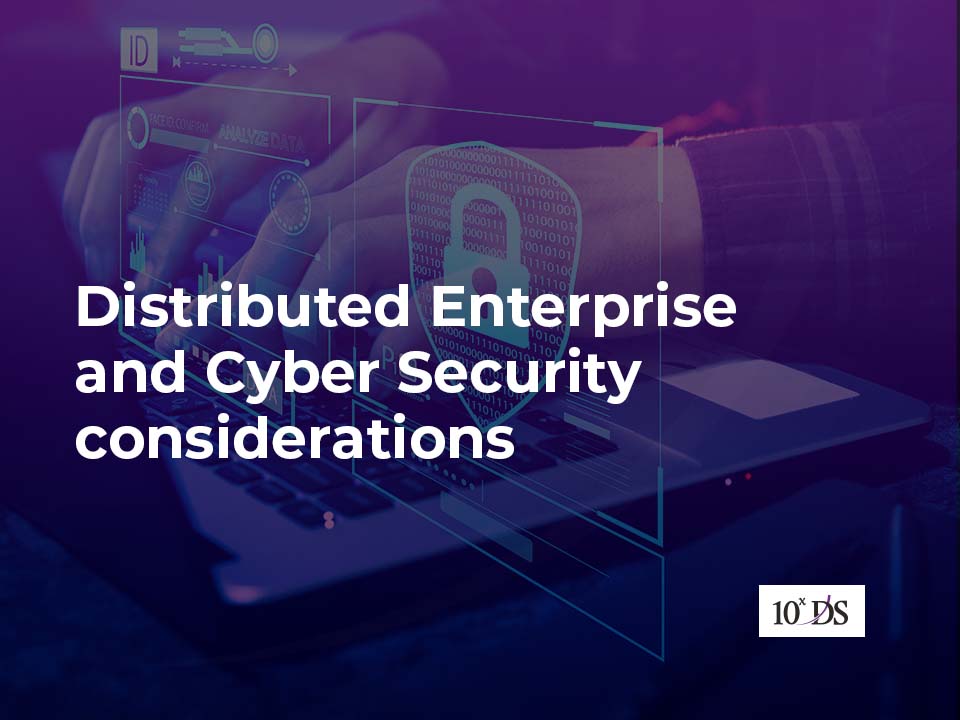 Distributed Enterprise and Cyber Security Considerations
A dispersed workforce is considered the most effective way to build a 21st-century business. Employees working from headquarters, branch offices, and even from home. It is believed to be allowing greater autonomy and increased productivity. Also, the model allows organizations to be in the place where their customers are and now where their employees are. Similarly, applications and data reside in multiple locations like physical data centres, the cloud and even the devices used by the employees. The benefit of distributed enterprise is many but the challenges it throws open from a cyber security perspective is enormous.
How to draw boundaries of a network perimeter
How to protect a larger Attack Surface of a Distributed Enterprise
Cost incurred to dedicate IT and Cybersecurity staff for each location
How to extend consistent security and access or restrictions everywhere
To summarize, the Distributed Enterprise is more vulnerable to cybercrime. To avoid major breaches, every branch and remote location must be secured with the same level of world-class enterprise security as the headquarters and data centers. Let's discuss few of the best practices to be on top of security.
1. Centralized Network Security Management
It is the practice of directing the vast amount of security-related data from the various sources in the network through a centralized process and team. This helps in getting a comprehensive view of the network security status. There would be a single, central set of tools, procedures, and systems for this purpose. It ultimately provides unified protection, ensuring the organizations' entire IT architecture irrespective of locations is adequately guarded against threats. Centralized virtualization and directory services increase both visibility and overall security.
2. Secure Access Service Edge (SASE)
With Distributed Enterprise, enterprise perimeter is no longer possible. But Network architectures require everything to pass through a network perimeter before backing out. This is an inefficient way causing challenges in service availability, user performance, and productivity. This is where SASA comes in handy as a comprehensive framework for enabling secure and fast cloud transformation based on a suite of dynamic edge security and connectivity capabilities delivered when needed as a service from the cloud. This framework combines software-defined networking with zero-trust access, endpoint security and cloud-based security. It helps enterprises to extend the security and performance to every user, anywhere, over any device and on any network.
3. Next-Generation Firewalls (NGFW)
Next-generation firewalls are a more advanced version of the traditional firewall. It uses both static and dynamic packet filtering and VPN support to ensure that all connections between the network, internet, and firewall are secure. NGFW provides features like application awareness and control, integrated intrusion prevention, and cloud-delivered threat intelligence. They are equipped to address Advanced Persistent Threats as well as to block malware from entering a network. Threats to personal devices and dispersed networks are increasing every minute and with NGFW, it protects devices and networks from a larger spectrum of intrusions.
4. Cloud-Agnostic Approach
Today Cloud Service providers offer a bridge between organizations and multiple hyper-scale cloud providers. This helps organizations to tap into the wonderful capabilities that each of the CSPs gives rather than choosing just one. They also help to simplify operations by managing complex services and vendor relationships, including public and hybrid cloud services. This helps to avoid cloud-silos using a CSP-enabled overlay and operational model across them. Many of these CSPs also have established relationships with SD-WAN, SASE, and cloud and endpoint security providers to jointly deliver managed services.
Conclusion
Distributed Enterprise is getting more complex down the lane and defending the enterprise from security threats is the first and foremost challenge. Today's constant trouble of securing disparate locations with limited tools and people cannot continue for long. Hop onto the secure way of doing business by adopting the latest frameworks, tools, and teams.
Talk to our experts to know more.