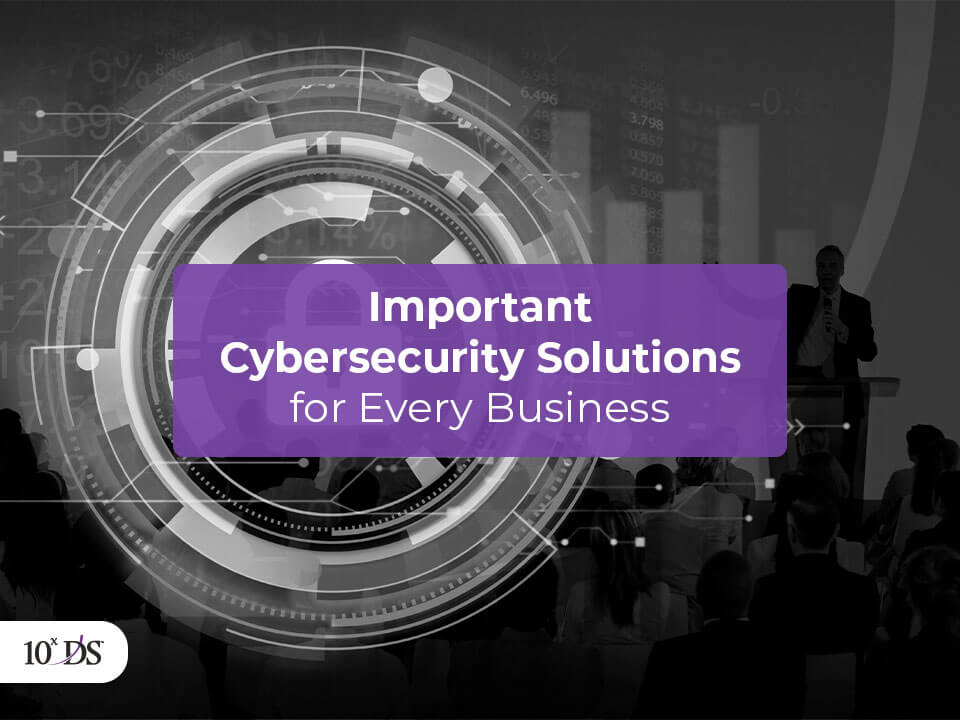 Important Cybersecurity Solutions for Every Business
Cybersecurity has always been a prime concern for businesses. While many small business owners presume that cybercriminals target high-profile companies only, it is a pure misconception. Companies of all sizes across different industries can be potential targets of cybercriminals. In fact, hackers find small business websites and network systems easier to attack and exploit them for varied purposes. This makes it very important to secure your business accounts and networks with reliable cybersecurity solutions, regardless of the size or type of your business.
Here are some of the important cybersecurity solutions that will help your business to minimize the risks of cyberattacks.
1. Intrusion Prevention and Detection Systems
Intrusion detection systems can help to log a cyberattack attempt and alert your IT team to respond to the situation quickly. This will help you to protect sensitive business data from falling into the wrong hands in case of a security breach. Intrusion prevention systems, on the contrary, will not just alert you about the cyberattack but it will also take the required actions as per its configurations to stop the cybercriminal from exploiting the systems.
You can deploy intrusion prevention and detection systems strategically on the company network or on the devices that are connected to the business network. This will help to analyze inbound and outbound data and recognize how the cyberattack happened. This way, you can take the applicable measures to prevent future cybersecurity threats.
2. Multi-Layer Firewall
Firewalls can help to protect your business network and connected devices from a wide range of cybersecurity risks due to unauthorized access. Multilayer firewalls work by filtering inbound data before it enters the network using dynamic packet filtering technology. Setting up a multi-layer firewall in your network infrastructure will not just alert you of potentially threatening attempts but it will also help to minimize the damage in case of a breach.
Multi-layer firewalls also perform monitoring of the business network and active connections to review which packets are safe. Even if the cybercriminal gets into your business network systems, the multi-layer firewall will slow their actions by limiting their access to sensitive resources. This will help you to cut off their access before they can do any serious harm.
3. Security Patch Management Tools
Missing important security patches can make your business network more susceptible to cyberattacks. A robust security patch management application can help to identify new security vulnerabilities and apply the needed upgrades to thwart any potential risks. It will also acquire, test, and install multiple patches on your business software and applications automatically to find the best solution and keep them up to date with the latest cybersecurity standards.
You can also plan a rigorous update schedule using the security patch management software to keep your network infrastructure protected against cybercriminals. Doing so will help to ensure that the operating systems, business applications, and embedded systems in your company are not vulnerable to cybersecurity threats.
4. Identity and Access Management
Identity and access management solutions allow you to define and manage the roles and access privileges of end-users accessing your business network. This can be for your employees or customers, which will help you to monitor their activities and identify potential risks. Identity and access management systems will assign one digital identity per person to make it easier for you to maintain, assess, and modify the user access as needed.
Cybercriminals often exploit compromised user credentials to get into the business network and access its information assets. Using identity and access management solutions will help you to protect your business assets against the risks of criminal hacking, ransomware, phishing, and other forms of malware attacks. At the same time, employing such a cybersecurity solution in your company will enhance business productivity and lead to superior user experiences.
5. Managed Cybersecurity Solutions
Managed cybersecurity service providers can offer different types of cybersecurity solutions to minimize security risks. Although the services provided will differ from vendor to vendor, you can expect a few common cybersecurity solutions from all managed cybersecurity providers. This includes cybersecurity audits and assessments, end-user training and education, vendor risk management, incident response, and implementing system changes or upgrades.
A managed cybersecurity service provider can also help to identify the internal and external security vulnerabilities of your business by evaluating the security policies, reviewing security architecture, and utilizing penetration testing. This will help you to implement the needed cybersecurity measures to fill the gaps in your business network infrastructure.
Conclusion
The above-mentioned cybersecurity solutions are just a few of the robust tools that you can implement to reprioritize your business network and systems security. There are many more cybersecurity solutions, which you can use to safeguard your business against cyberattacks, such as virtual private networks, antivirus programs, application and service blacklisting tools, and more.
How 10xDS can help
10xDS offers a comprehensive suite of cybersecurity and IT risk assurance services including integrated Adaptive Cyber Defense, Cyber Risk Management, IT & Cyber security Internal Audit and Information Security Consulting. Our services help enterprises in detecting, preventing, and proactively responding to security threats, helping you to rapidly adapt to changes, mitigate risk and minimize the impact.
Talk to our expert NXSecure Cybersecurity and IT Risk Assurance team to learn more about the different cybersecurity solutions and see which ones you should implement for securing your business.