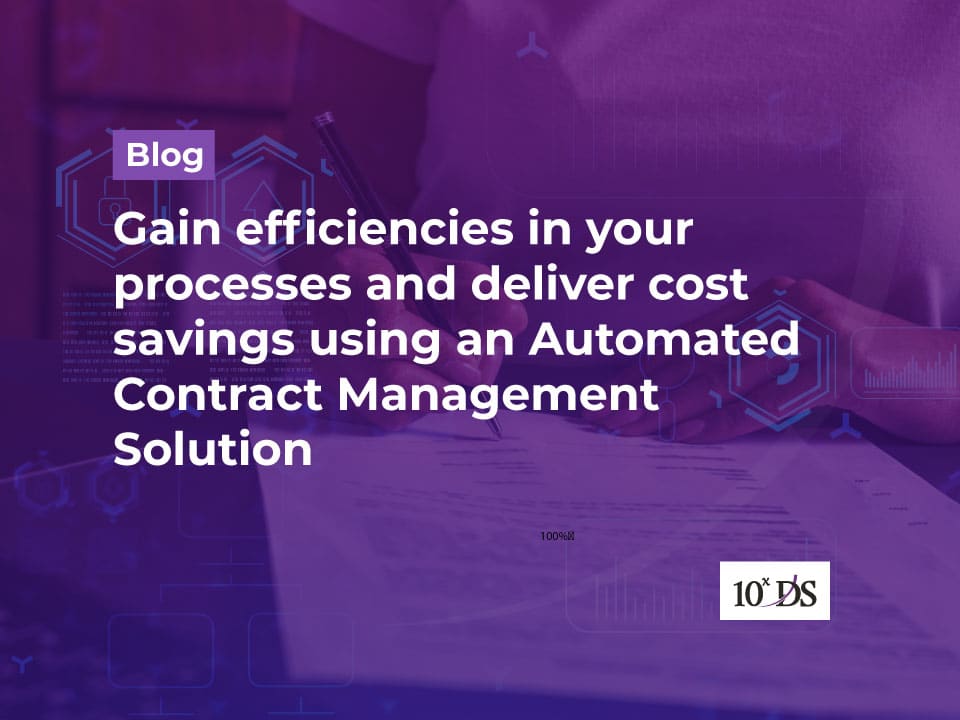 Gain efficiencies in your processes and deliver cost savings using an Automated Contract Management Solution
Uncontrolled revisions, the use of out-of-date templates and language, random contract routing, contracts collecting dust on people's desks, and missed notifications of important milestone dates are all problems. Companies that rely on a manual process to close contracts and recognise revenue at the end of each quarter or fiscal year are at a disadvantage because it can be difficult to determine who is responsible for the contract, where it stands in the approval process, and what needs to be done to get it signed.
Using an automation solution, the business can drastically enhance its operations, cut expenses, and boost earnings.
How can the automation of contract management help your organization?
An automated contract management system keeps track of where you are in the contract lifecycle (from drafting to negotiating to executing to monitoring for compliance) and when to take the next step. The human propensity for forgetfulness, misunderstanding, and error is mitigated by the use of automation.
In order to prevent the use of unorthodox contract formats or language during the creation phase, contract management software provides easily modifiable contract templates and preapproved clauses. Due to the high stakes involved, this precaution is necessary.
Once a contract is created, the documents and data associated with it are stored centrally, approval routing is mapped out, progress is tracked, email status alerts are sent out, and contracts can be searched quickly. The solution  will also automatically notify the relevant parties of any upcoming negotiation- and completion-related milestones, such as revision deadlines (e.g., when a contract needs to be closed in order to allow another contract to close, or when a contract must be completed to record revenue in a certain period). There is no longer any need to worry about misplacing a contract.
Enterprises can use the automated contract management solution to ensure that all parties are keeping to their end of the bargain and generating the most revenue possible once the contract has been signed (e.g., alerting when penalties are due). Organizations can evaluate potential future contracts and develop strategies with the help of flexible contract reporting capabilities that can be adjusted to fit any business situation.
Returning to a State of Calm
When deciding on a contract management solution, its ease of use and setup are crucial. Instead of making things more difficult for the end user, things should be simplified. There shouldn't be any need to switch systems or enter information twice. Fortunately, modern contract management solutions are intuitive and simple to set up so that they can be tailored to your specific processes, contract types, and workflows.
Enhanced Control
An automated contract management solution will provide significant improvements and control over productivity and processes for a contract-overburdened business stuck in manual, paper-based contract management that is often more chaotic than productive. By using a contract management solution, you can take command of the contracting process and, in turn, your bottom line.
10xDS Contract Management Solution
The 10xDS automated contract management solution can be used to manage contracts in an organisation, beginning with the initial contract creation and ending with the contract's archival.
Our Microsoft platform-based solution can help you:
With just a few clicks, you can quickly and easily create contracts based on a variety of pre-defined templates that are tailored to different types of contracts.
Upload the received contracts, compare contract versions, and note any discrepancies to cut down on negotiation time.
Submit final contracts for review and approval with reminders to the reviewers. Store all approved contracts in a safe and secure repository.
Contract monitoring reports and dashboards can be tailored to meet individual needs, and users can set up renewal notifications to be sent automatically.
Benefits of the 10xDS Automated Contract Management Solution
1. Enhancement of quality
When compared to human labour, the automated solution ensures more consistent and reliable results. This significantly reduces the number of typos and administrative blunders.
2. Speed
Due to the lack of necessity for manual device manipulation, the solution can complete tasks like data editing and operations at tens or hundreds of times the speed of human labour.
3. Improved Efficiency
The answer reduces the need for humans to take part in certain processes, allowing them to instead concentrate on more valuable endeavours.
ROI is maximised because there is no additional cost associated with using existing M365 licences.
Conclusion
An automated contract management solution is useful for anyone handling contracts on a regular basis, but especially for those still relying on manual methods. It aids businesses of all sizes and in all fields in automating their procedures, re-establishing order in their operations, and maximising their productivity.
Looking to implement a Contract Management Solution in your company that runs on the Microsoft Platform? Talk to our experts, and we'll be glad to lend a hand!