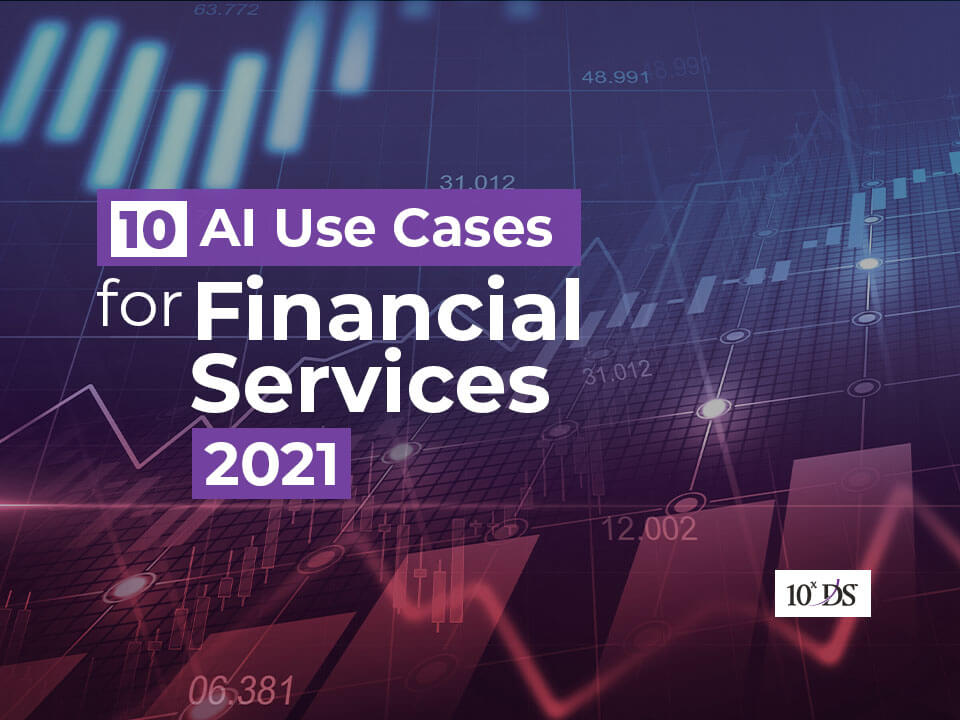 10 AI Use Cases for Financial Services 2021
Artificial Intelligence (AI) technologies have been transforming businesses in the financial services sector across the globe for quite some time now and the adoption of AI in financial services is likely to further go up in the upcoming years. Innovative AI technologies allow financial service providers to streamline their operational efficacies, automate various business processes, and leverage data and analytics to overcome unforeseen challenges. Moreover, AI solutions can also help financial institutions to remain compliant with the changing standards and regulatory frameworks of the industry.
From establishing customer creditworthiness to facilitating ways to serve low-income customers, Artificial Intelligence can have many potential benefits for financial service providers.
Below are the top 10 use cases of AI in financial services that you should look out for in 2021.
1. Credit Decisions
Credit is one of the major aspects of financial services, be it for lenders or consumers. AI solutions can help financial institutions determine the creditworthiness of consumers using a variety of factors that are more accurate than using any traditional tool. This allows banks and credit lenders to make smarter assessments and simplify their decision-making process.
2. Cost Reduction
AI technologies like Machine Learning and Natural Language Processing can help businesses in the finance industry lower their operational costs and drive better profitability. For instance, insurance companies can use AI tools to identify high-risk cases and determine their actions wisely. Likewise, AI can also be applied to day-to-day tasks for easy claims processing.
3. Process Optimization
AI algorithms can help financial institutions to optimize their processes by handling bulk quantities of data and improving the accuracy and speed of mathematical calculations. For instance, banks can easily find the best initial margin reducing trades by analyzing past data and apply the insights to testing models for evaluating risk models and achieve better capital optimization.
4. Managing Risk
Financial services need to manage risk efficiently to maintain their business operations, have accurate predictions, and optimize the speed and protection of their functions. AI and Machine Learning solutions can help financial services providers to create agile models to use the existing data to identify risks, recognize trends, save manual resources, and ensure superior future planning.
5. Quantitative Trading
Quantitative trading refers to employing large data sets to determine the patterns that can help to make strategic trades. AI-powered tools can help financial institutions to analyze any amount of complex data sets faster and more efficiently. This algorithmic trading process can thereby help to automate the trades and save valuable time and resources for the services provider.
6. Fraud Detection
The need for adequate cybersecurity and fraud detection measures is critical in the financial services industry. AI solutions can help to boost the security of digital transactions and online activities by analyzing thousands of data points in real-time and flagging suspicious transactions or fraudulent claims before it leads to any kind of loss for the company.
7. Financial counselling by Robo-Advisors
Robo-advisors are not only low-cost alternatives to traditional financial advisors but they can also facilitate financial counselling for a large group of people, helping to make more informed financial decisions. Besides, data-driven AI-powered Robo-advisors can also recommend investors on scaling their portfolio, retirement, estate planning, etc., which in turn can make the account opening process an interactive experience.
8. Personalized Banking
Digital-savvy consumers look beyond traditional banking approaches; they prefer monitoring their budget on the go and make spending adjustments in real-time. Natural Language Processing and AI-powered chatbots can come in handy to facilitate this trend with personalized financial advice and instant help. This way, financial institutions can also provide better insights for wealth management to their consumers.
9. Regulatory Compliance
Financial services providers need to ensure compliance with the specific requirements and regulations in the industry efficiently while keeping the costs in check. AI regulatory technologies can help businesses in the financial services industry to ease the process, ensure improved asset management, and make regulatory compliance more efficient and a part of their core processes.
10. Customer Retention
AI and Machine Learning solutions can provide an array of tools to improve customer satisfaction. By optimizing the sales of financial products, solving simple customer requests quickly, and regularly recommending suitable plans that fit their specific needs, financial services providers can drive better value for their consumers and ensure that they remain loyal to the company.
Conclusion
It is seen that more and more financial institutions are exploring these AI use cases to fuel their digital transformation needs nowadays. Adopting AI solutions are showing promising results in terms of increased efficiency and productivity, and they have great potential for the future as well. Implementing AI to various processes across the company also gives financial services providers a competitive advantage in the market and readies them for meeting all the needs of their customers capably.
Talk to our experts to learn more about the financial applications of AI and see how it can transform your organization for the future.