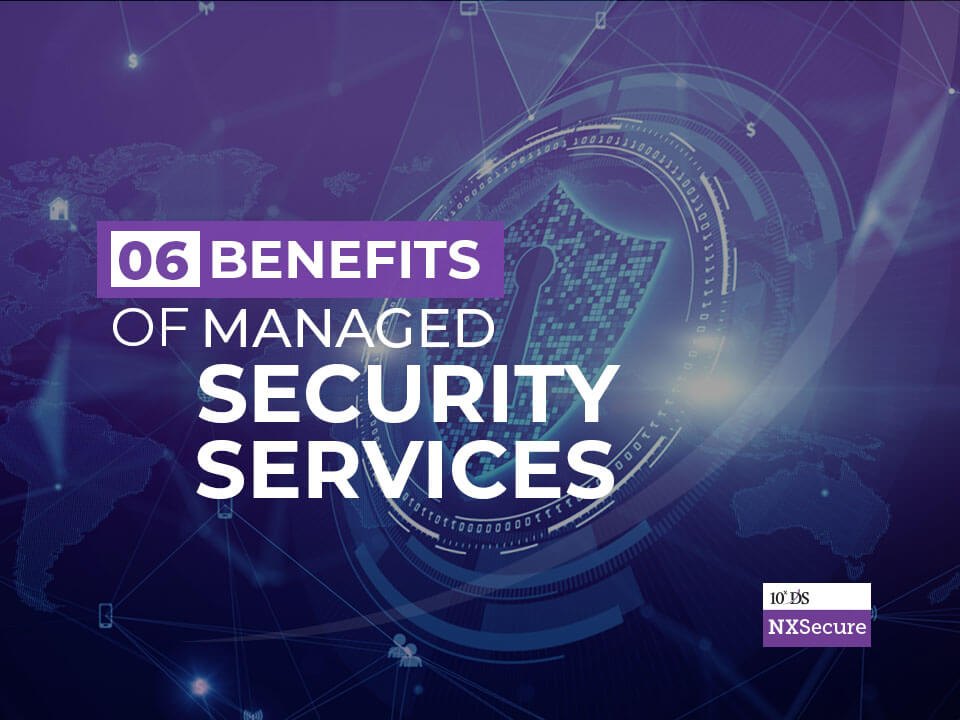 6 Benefits of Managed Security Services
Having an in-house cybersecurity team comes with its benefits.  It gives organizations greater control of cybersecurity activities, and crucial data and communication will be retained within the organization. Having such a team also means that there is always someone who can address any concerns immediately. An in-house team also has a better understanding of your business-specific activities and problems. Still, many organizations are adopting Managed Security Services.
What is the Managed Security Services model?
In simple terms, it is outsourcing the security services to a service provider that holds expertise and tools that is advanced, and they are also expected to be in command of the newest trends in cybersecurity. Major functions of Managed Security Service include round-the-clock monitoring and management of intrusion detection systems and firewalls, overseeing patch management and upgrades, performing security assessments and security audits, and responding to emergencies.
Let us have a look at the major benefits of this model.
6 Major Benefits of this Model
1. Multilayered expertise, experience, and resources that Managed Security Providers bring in
Managed services come with a wealth of experience, expertise, and an extensive set of tools and technology that monitors security threats, update systems, and mitigate vulnerabilities at an affordable fee. It helps maintain the right security layers including software patching, DNS security, firewalls, anti-malware, anti-phishing software, credential managers, IAM tools, and more to safeguard the organization's data. Having diversified and certified experience, outsourced security professionals have seen a lot more security vulnerabilities that can possibly exist in a system than an in-house security team may be able to detect.
2. Cost-effective approach to security
For small businesses, maintaining an in-house team with the right levels of experience is challenging and costly. Investing in the right tools, hardware, and software that are continuously evolving needs expertise and a considerable budget as well. To be on top of the cybersecurity plan and priorities, an organization needs to keep pace with new trends. While cyber threats do not differentiate small businesses and big corporates, the large investment required for the tools and technology may not be easy for small businesses but Managed Security Services can help them level the playing field with big companies by providing access to top-notch security technology.
3. Scaling up and Down is easy
One of the biggest advantages of Managed security services is it's flexibility. It can be subscribed on demand basis. It gives businesses the ability to quickly scale up with an already trained and knowledgeable staff that can handle the dynamic volume of business.
4. Risk is alleviated on you
Managed Security Service Providers (MSSP) manage most of the business risk, with specific industry knowledge and expertise, especially about compliance and regulatory issues. They also reduce the chances of security breaches significantly. They can easily build customized risk management strategies that are apt for any business model and needs. They evaluate all risk areas and determine a plan to follow in the event of security breaches, which helps reduce downtime and costs by a significant margin. MSSPs give due importance to maintaining regular backups to prevent data loss in case of any unfortunate security incident.
5. Independent validation of cybersecurity posture
An independent view and analysis of vulnerabilities using tools easily available at their disposal will give organizations a plan for better cybersecurity strategy. MSSPs can simulate attacks to validate an organization's resiliency and subsequent response time.
6. Round the clock services
Service providers ensure that they monitor the assets and network 24/7 by using many dedicated tools. They also use Artificial Intelligence to identify anomalies and if there are no anomalies in certain areas, that is also something to be doubted as per the Zero trust policies that Service providers follow. They also take necessary precautions to avoid any unplanned disruptions.
Conclusion
But Managed Security Services is not without challenges; outsourcing cybersecurity to a third party may not be acceptable to a few organizations due to data sensitivity consideration. Carefully considering client testimonials, industry certifications, and references with their clients can come in handy here. Another problem is that there is no cybersecurity specialist on-site since most of the cybersecurity monitoring and maintenance is done remotely by MSSPs but keeping a lean team onsite can help to overcome this problem.
10xDS NXSecure offers Managed Security Services with a comprehensive suite of cybersecurity and IT risk assurance services to detect, prevent, and proactively respond to security threats. Talk to our experts to know more.