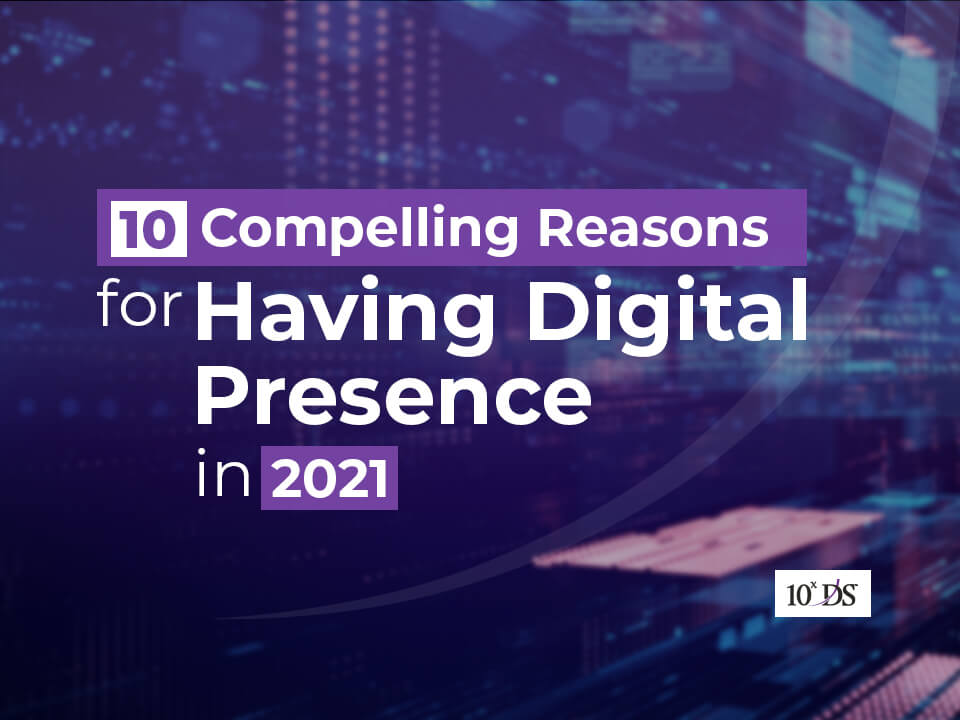 5 Compelling Reasons for Having Digital Presence in 2021
The digital boom has led to intense competition in every industry as more and more customers are now relying on digital channels to find a product or service. This has mandated every business to have a strong presence online and cater to the varying demands of their customers actively.
Having a digital presence in 2021 is more than that though. It allows you to market your products or services to the desired target audience for much lower costs than what you may have to spend on traditional marketing approaches. For instance, the one-time cost for designing a professional website and promoting your offers through it can be much cost-effective than distributing flyers every month or advertising through billboards or other media.
The Benefits of Having a Strong Digital Presence in 2021
We have already transitioned into a digitally-advanced era. This makes it the right time to leverage the power of different digital tools like social media and mobile marketing and promote your brand rigorously. Besides, having an online presence with a professional website and social media page will also keep promoting your business round-the-clock. When coupled with automation tools, you can even turn that into a 24/7 portal where customers can connect with your business and make transactions.
Below are 5 compelling reasons that explain why you should focus on having a good digital presence today.
1. It Increases your Market Reach
Taking your business online frees you from the limits of physical borders. You can promote your products and services to a global audience as per your needs and business expansion plans. You just need to have a robust digital marketing strategy and thought-out online business model to serve your customers.
Being online also allows you to earn credibility and trustworthiness in the industry and attract more business partnerships. It also allows you to reach mobile customers, which has become a rapidly growing market of late. This way, you can also explore more business opportunities and improve your reach as well as revenue.
2. It helps to Target your Audience Better
You can employ different digital marketing strategies like SEO and social media marketing to target the right audience to promote your business. For instance, you can market your goods and services to people who are in the most favorable demography and age range. You can also filter your target audience based on their interaction levels.
This increases the chances of conversion when coupled with promoting your business to the generic audience. You can also run surveys and contests to find potential target customers and push your offers to them who are more likely to interact with your brand.
3. It Improves User Engagement
When you have a digital presence, your customers will find it easier to interact with your business. When you engage your audience and potential customers through different digital channels, they will connect with your brand more closely and are more likely to do business with you.
Additionally, you can address the queries and grievances of your customers easily through online platforms, be it your website or a social media page. You can even collect feedback on your products or services this way, and see if you can use any of the data for making your offers better.
4. It allows you to Build Brand Reputation
When you stay in touch with your customers, especially after sales, it helps to build trust and loyalty. Interacting with your customers regularly also allows you to find out where you can improve to serve a wider audience and generate more revenue.
As one of the oldest marketing concepts says, "If people come across a brand seven times, they start recognizing the brand." With a planned digital marketing approach, you can take the center stage and make your brand more visible to your preferred audience. When more people notice your brand and see you interacting with your customers actively, they will also want to do business with you
5. It helps you to Generate Better Revenues
The most obvious benefit of taking your business online is that it helps to generate better revenues by making the most of all the available digital channels. It is even seen that businesses that do not have any digital presence and only follow conventional marketing approaches are likely to lose the opportunities to reach the new-age population that embraces digital life.
Having a digital presence not only allows you to reach more potential customers and promote your brand but it also allows you to encourage them to take the desired action. Repeating this process will lead to consistent lead generation and increased conversions.
Conclusion
The above are just a few advantages of having a digital presence. With the help of advanced digital marketing tools, you can also track your marketing campaigns' performance and ROI, and use the data to see if they are driving the results that you are seeking. This allows you to adapt to the change quickly as well, which is an important trait to have in today's highly-competitive market.
Talk to our experts to learn more about digital marketing and see how we can help you to take your business to new heights. 10xDS Digital Agency helps enterprises transform their brand through our unique integrated approach to delivering an enhanced digital experience.