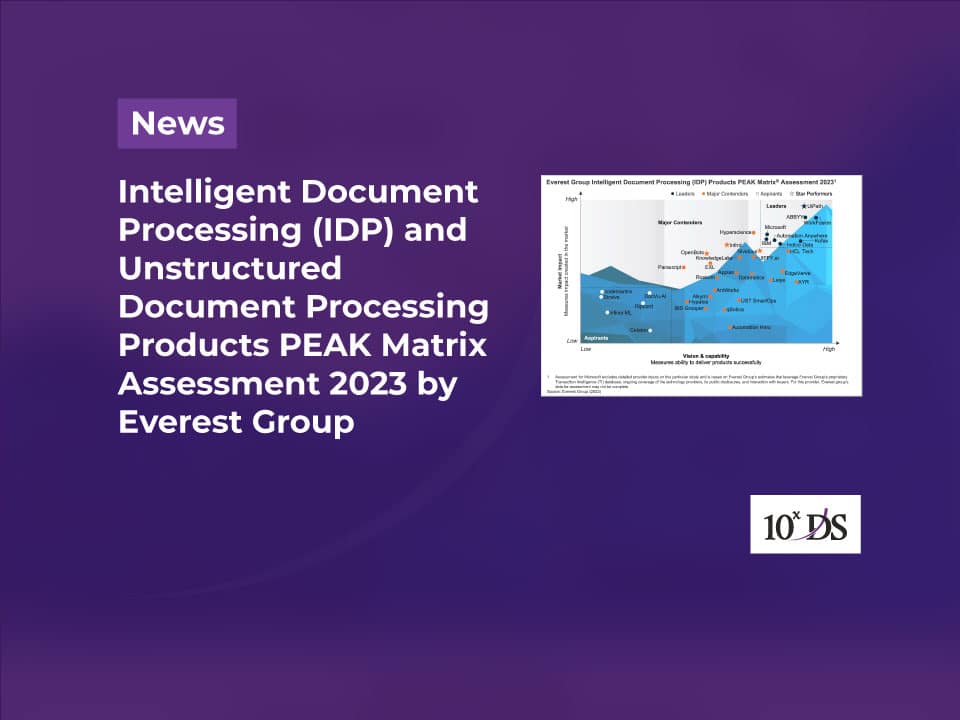 Intelligent Document Processing (IDP) and Unstructured Document Processing Products PEAK Matrix Assessment 2023 by Everest Group
Everest Group Published IDP PEAK Matrix which assess Intelligent Document Processing (IDP) products from 36 technology providers. The PEAK Matrix is a framework to assess and analyse the relative market success and capabilities of service providers across various industries and domains. The framework evaluates service providers based on two primary dimensions: market impact (measured by market adoption, portfolio mix, and value delivered) and vision and capability (measured by innovation, delivery footprint, and scalability).  Intelligent Document Processing (IDP) products play a vital role in enterprises' automation technologies portfolios by leveraging technologies such as OCR, computer vision, Natural Language Processing (NLP), and machine/deep learning to classify and extract information from structured, semi-structured, and unstructured document. PEAK Matrix groups these providers as Leaders, Major Contenders, Aspirants, and Star Performers based on their capabilities and offerings. Their research is intended to help buyers select the right-fit technology for their needs, while these technology providers will be able to benchmark themselves against each other.
UiPath, ABBYY, Workfusion, Microsoft, Automation Anywhere, Kofax, IBM and Indico Data emerged as leaders in IDP Products. Workfusion and Indico Data remained leaders for Unstructured Document processing category as well with Edgeverve, HCL Tech and AYR. Organizations and solution providers will continue to innovate and adapt on IDP front.