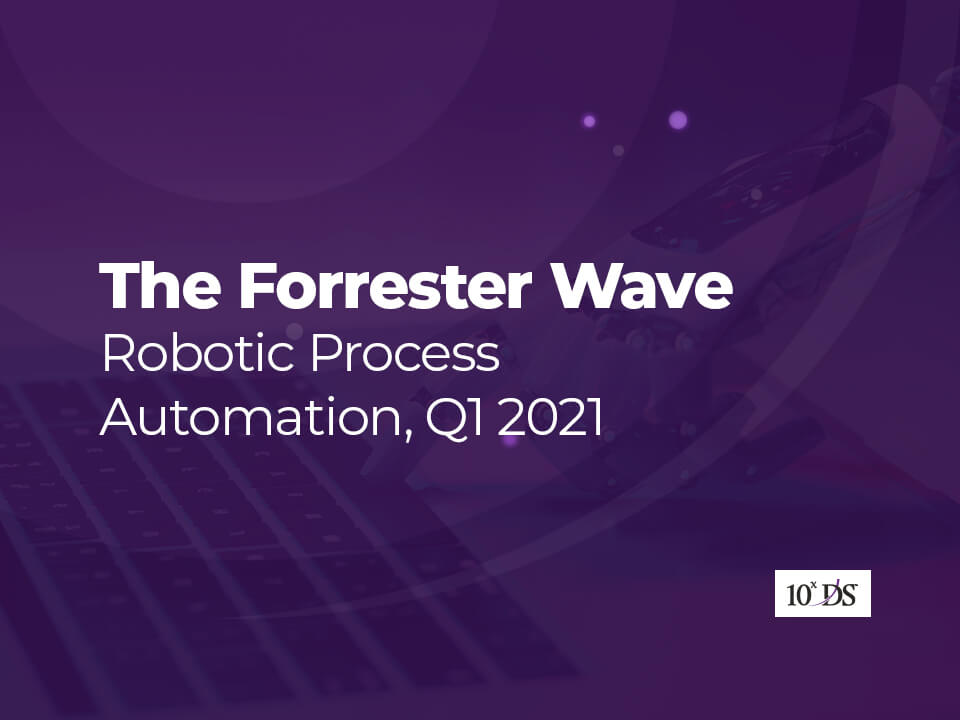 The Forrester Wave: Robotic Process Automation, Q1 2021
Forrester recently released the Forrester Wave™: Robotic Process Automation, Q1 2021 report. Forrester Research creates essential assessments of the technology marketplace and the report evaluated 14 Robotic Process Automation (RPA) providers based on a 25-key criteria evaluation process. The criteria include areas such as bot design and development; bot deployment, management, and analytics; bot governance, platform model, and security; and supporting products and services. These 14 most significant RPA providers include — Microsoft, Automation Anywhere, Blue Prism, Cyclone Robotics, Datamatics, EdgeVerve, Hyland, Kofax, Kryon, Microsoft, NICE, Pegasystems, SAP, UiPath, and WorkFusion.
The report highlighted the importance of enablers for scaling existing bot environments of customers and scope extensions of their automation projects beyond classic desktop-based tasks to handle more complex processes. In the current scenario while everyone is working from home, manual processes are broken and require digitization and automation to run smoothly. Business users are looking for scalable and suitable RPA software to get damaged processes back into operations rapidly. Keenly understanding these needs of the customers, vendors have started responding by delivering integrated task and process mining capabilities, advanced ROI and portfolio analyses, AI-infused content analytics and processing, RPA-platform-wide features addressing business users, among others.
The report recommends the RPA customers certain qualities and capabilities that they should look for in the RPA providers they choose. For instance, the RPA software should deliver broad and rich experiences for business leaders. It should deeply serve the business process owners and experts as they tap into automation, just as the software does for professional developers. It is important that the software should help in identifying and prioritizing automation candidates using mining and analytics features, and also enable an easy-to-use bot design, deployment, and management functionalities. The software should also be able to integrate RPA-adjacent automation technologies that augment RPA solutions. For instance, the automation of operations processes that require connecting to IoT ecosystems, AI-infused decisioning tools, among others. The provider should offer features such as free trials, pay-as-you-consume, pay-by-ROI models, several architectures and hosting options from fully on-premises to cloud-native software as a service (SaaS).
10xDS technology partners Microsoft, UiPath, and Automation Anywhere are flying high and performing well as leaders and Blue Prism as a strong performer this quarter. The software giant Microsoft has caught up with the leaders this time, leveraging their SaaS-based intelligent automation solution. Microsoft's cloud-native and low-code automation platform called Power Automate brings together UI- and API-based automation with AI.