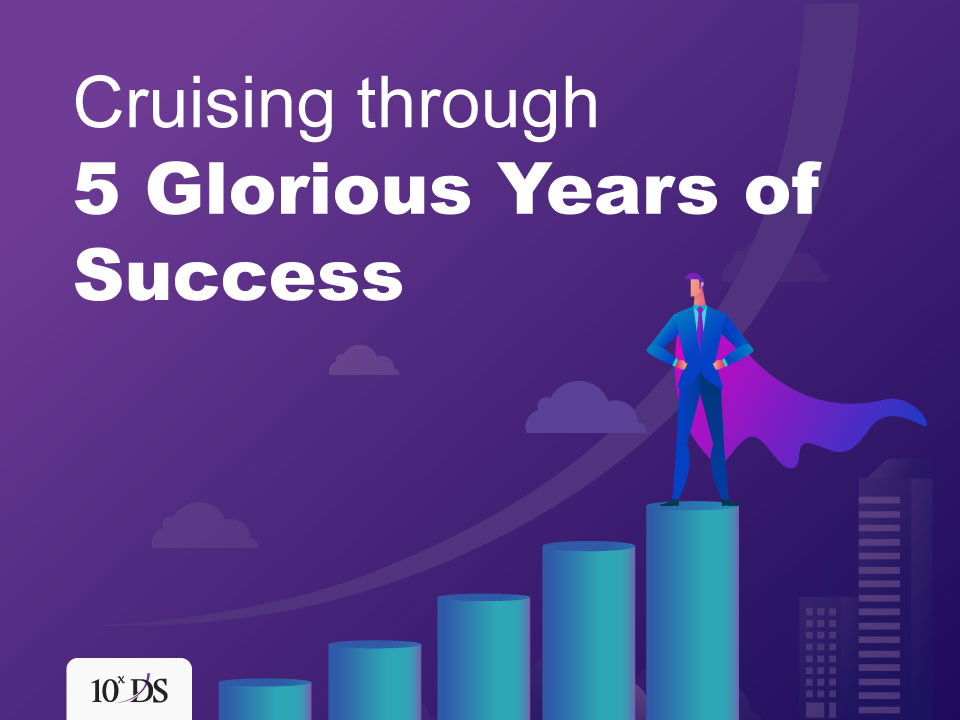 Come and join us- We are celebrating our 5th Anniversary!
Exponential Digital Solutions (10xDS) is reaching another significant milestone on November 2021 by completing our five successful years as a company. We can look back with pride in all that, the company has accomplished throughout the years. Step by step, day by day, month by month our services evolved and expanded gradually under the leadership of our CEO, Binu Koshy, the leadership and our strong team. Today we are nearing more than 100 employees and very humbled by the fact that we are able to consistently meet our customers' expectations. 
Over a span of five years, 10xDS has successfully built a strong multifaceted team of professionals with extensive business consulting and technology experience delivering exciting engagements for our clients.  The company has a wide partner ecosystem enabling massive scale institution building and we are delighted that our solutions have empowered businesses to drive digital transformations, helping them reinvent their business to stay ahead of the digital curve. 
We at 10xDS would like to express our sincere appreciation to our employees for their loyal support as we celebrate our fifth year in business. Together we have embarked on this journey and in many ways, we have grown together to reach new levels of lasting success. We could not have come this far without the exemplary effort and hard work of each member of the 10xDS team. We thank all our clients and partners who we believe are the strong pillars of our growth. We look forward to their continued support in the journey ahead. 
With our 5th anniversary, we are also gearing towards our initiative for our mission 2026 for 10x growth by restructuring our operations, business aspirations, goals, and strategies. 
Experience has been our best teacher and our accomplishments so far can help us in our onward journey. 
#GiveMeFive #TheFirstFiveYears