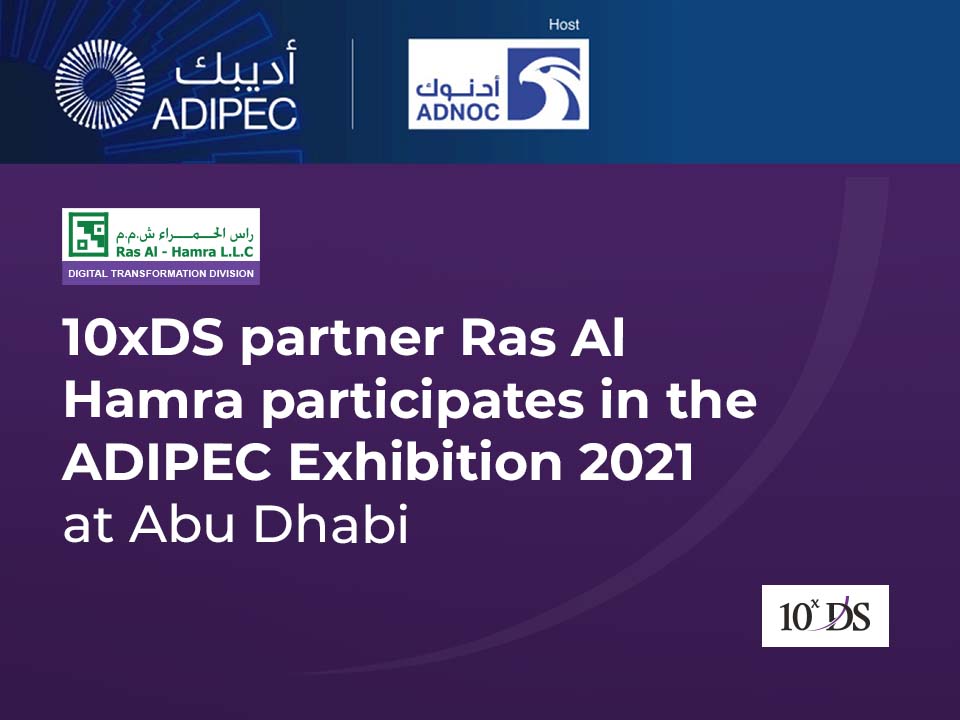 10xDS partner Ras Al Hamra participates in the ADIPEC Exhibition 2021 at Abu Dhabi
10xDS Oman partner Ras Al Hamra, a leading provider of specialized manpower to Oil & Gas companies throughout the Middle East, had participated in the Abu Dhabi International Petroleum Exhibition and Conference 2021 (ADIPEC) which took place between November 15th – 18th , 2021 at Abu Dhabi.
This annual exhibition and conference hosted by Abu Dhabi National Oil Company (ADNOC) is the world's most influential meeting place for Oil, Gas & Energy companies and professionals. The conference brings together leading decision makers involved in shaping the future of Oil & Gas, to forge new partnerships and enable growth in the post-pandemic scenario.
ADIPEC Exhibition 2021 was in the spotlight as it was the first event to be held after COP26. The objective of this event was to examine the key outcomes of the UN climate meeting and how they will shape future policy and business environments of the energy industry.
Over 2000 companies including 51 National Oil Companies (NOCs), International Oil Companies (IOCs) and Integrated Energy Companies (IECs) had participated in the event. Another highlight of the event was there were various pavilions of 26 countries including the USA, UK, India, Canada, China, among others. The event helped in stimulating the development of bi-lateral trade, commerce, and innovation among different countries.
During the conference the focus was mainly on major four themes:
New market dynamics in a changing energy world
Fuelling the future: the new energy agenda
Building the energy company of the future
Hydrogen's role in the energy transition
This exhibition has facilitated the buyers and sellers of Oil & Gas related companies such as Ras Al Hamra to meet, learn and discover new business products, solutions, and technologies. There were more than 1000 leading ministers, CEOs, and policy makers who shared their strategic and technical insights about the latest industrial developments.
ADIPEC 2022 will be held in Abu Dhabi as an in- person event from 7th– 10th November 2022.
About Ras Al Hamra
Ras Al Hamra (RAH) Group of Companies is a leading provider of specialized manpower (supply & Services at most professional manner) to Oil & Gas companies within Oman and throughout the Middle East and Southeast Asia. Established in 1996, headquartered in Muscat, Sultanate of Oman, the Group comprises of over 5 independent Operating companies. The Group's activities specialize in manpower supply, Engineering Service & Consultancy, HSE technical Safety, and Trading Oil & Gas Field Equipment and others. RAH through its Digital Transformation Division (RAH DTD) is perfectly positioned to act as a local partner for 10xDS in Oman.  Together 10xDS and RAH DTD offer a full spectrum of services and solutions powered by the latest emerging technologies to the companies in the region.