Celebrating the Leather Anniversary of 10xDS
Celebrating the Leather Anniversary of 10xDS
Date/Time
Date(s) - 31/10/2019 - 30/11/2019
All Day
FROM CEO's DESK:
As we complete our 3rd year of successful operations, am extremely happy and delighted about how we have progressed in our journey. It has been nothing short of anything but thrilling and triumphing. With our greatest assets, our colleagues, now at a strength of 150, we are truly widening our horizons and gearing up for more growth. Truly synonymous to our brand, this has been truly exponential!
Over the last 3 years, we have consulted, advised, implemented, deployed and supported many clients in their digital transformation journeys. In all these, we have been able to demonstrate our ethos of POISE – our undying passion for excellence, obsession to customer and employee satisfaction, relentless pursuit of innovation, a sanguine attitude and empathy towards our stakeholders. This ethos is what we strive day-in and day-out. It has held us together in our most difficult challenges and am confident it will remain integral to who we are in our future endeavours as well.
We are expanding our footprints to many countries and continents. Our effort has seen results; people identify us as experts in Digital Transformation and they trust us to help them in their digital journey.
But this is not all. We need to think big. Our objective is to help our clients achieve their digital goals by being quick, agile and smart in embarking newer technologies and keeping our eyes open for more opportunities. This is a marathon that will take long, not a sprint of few seconds. Let's gather strength and inspiration from the past three years for this long exciting journey ahead.
I would like to thank all our people, partners and clients for supporting us in this journey and looking forward for more.
Happy 3rd Anniversary 10xDS!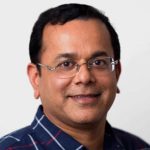 #Threeniversary  #WeAreExponential  #10xDS
STORY TILL NOW
As we celebrate our 3rd anniversary, here is a sneak peek of our exciting journey so far.
FROM LEADERSHIP
Under the dynamic and adventurous leadership and a family of passionate colleagues driving each other, 10xDS has successfully completed 3 years of its glorious journey.
Director – Talent & Operations, Anoop Thomas
Vice President – Digital Transformation, Manoj T
ANNIVERSARY CAKE CUTTING AT 10xDS OFFICES
TESTIMONIALS FROM COLLEAGUES
Diversity and inclusiveness are at the crux of our work culture, environment and teamwork. Our diverse group of colleagues brings their own flavors of culture and background, reflecting the diversity in our team.
Aramind MB, Manager – Business Analysis
Akshara S Pillai, Analytics Consultant
Jithin John, Automation Engineer
Amal Babu, Lead Automation Engineer
Aparna Hari, Business Analyst
Lima George, Assistant Manager – Talent & Operations