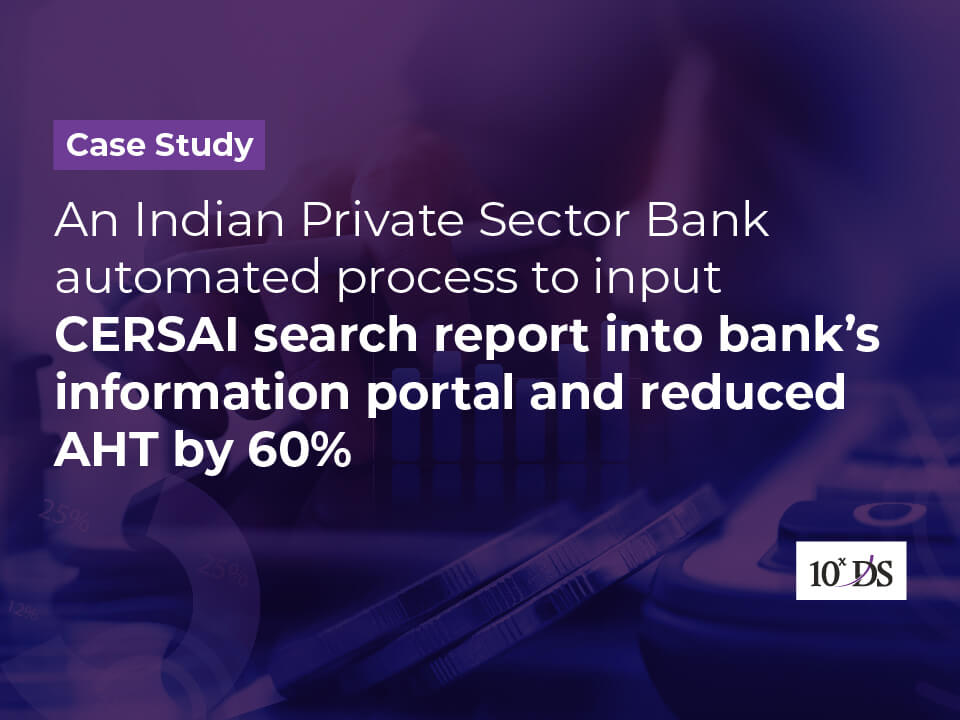 10xDS streamlined CERSAI backend processing for a leading private sector bank in India
10xDS implemented an automated solution for a leading private sector bank to input CERSAI (Central Registry of Securitisation Asset Reconstruction and Security Interest) success and rejection details into the Bank's information portal for compliance.
Challenges
Banks are required to register the loan security details in the online portal to curb fraud of people taking multiple loans on the same asset from different banks. The process was highly repetitive and rule-based due to the shortage of Operation teams. This issue created many backlogs and led to financial risk because of non-compliance and process delays.
Solution
10xDS developed and deployed a touchless automation solution to process all the CERSAI success and rejection records received from CERSAI cell.​ BOT creates a consolidated excel file with details and uploads it into the bank portal. The BOT validates the ID details and updates the rejection reason into the bank portal against each loan ID.​ It further downloads and saves the account holder's details for future reference. The solution enhanced the turnaround time and reduced the average handling time by 60%. The solution also increased the accuracy of the process with better internal control.
Download case study to know more