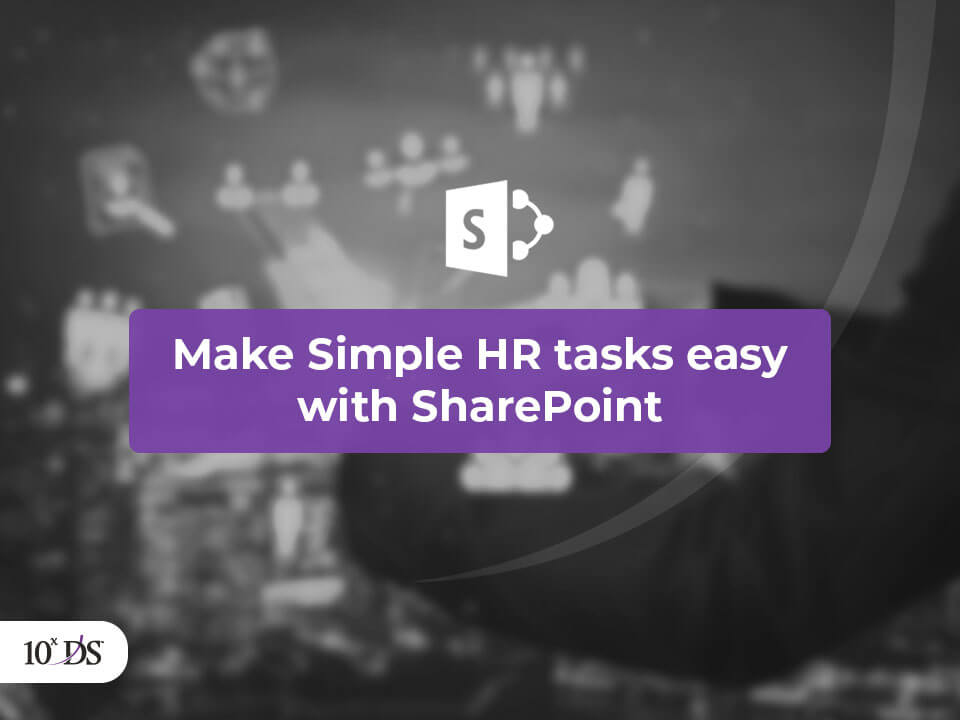 Make Simple HR tasks easy with SharePoint
SharePoint refers to one or more SharePoint products or technologies offered by Microsoft. When launched, SharePoint was primarily offered as a document management and storage system but due to its highly configurable nature, it is used for varied functions across organizations.
Major SharePoint products are:
SharePoint in Microsoft 365: A cloud-based service that any business can subscribe to, either a Microsoft 365 plan or to a standalone SharePoint Online service.
SharePoint Server: Organizations can deploy and manage SharePoint Server on-premises or Office 365 Enterprise subscription. It offers capabilities such as modern site pages, modern web parts and authoring, modern lists and libraries, modern search, integration with various Microsoft platforms such as PowerApps, Power BI and MS Flow.
SharePoint Designer 2013: Program last released in 2013 is used to build powerful, workflow-enabled solutions.
OneDrive sync: Desktop program that is used to sync documents from a team site or OneDrive for work to user's computer for offline use.
In this blog, we will discuss on how these SharePoint products can transform the HR function within an organization.
HR operations is an area that most leaders identify as a potential area for automation since it transforms the experience throughout the employee lifecycle, giving employees a superior experience. In addition, automation also reduces the cost of HR. With the advent of ERPs, most organizations automated their HR processes and with that, the structured part is taken care of. Still MS Excel, MS Word and scanned document-based workflows are widely in use resulting in huge inefficiencies in tracking, collating, analysing and securing these data.
Let's glance through the employee lifecycle how SharePoint can augment the HR ERPs to be super-efficient.
1. Recruitment
As an example, background verification process is conducted once a candidate is shortlisted for hiring. Many companies still follow MS Word-based questionnaire for data collection and assessment or they outsource the process. This is an area that could be automated using SharePoint forms and workflows and the data collected can be pushed to ERPs via integrations.
2. Workforce administration
Similar to background verification, On-boarding forms, Probation evaluation workflows, Feedback processes can be automated using SharePoint, these solutions help in Employee and Organizational goals, assist in managing people, process automation, and keeping information in an order. They allow better planning, budget management, and decision making.
3. Learning and Development
Training nominations and feedback are a hassle for my HR departments and timely information gathered at a single place make HR teams to organize and execute trainings well.
Managing communication with vendors for scheduled training and arranging logistics for trainings also can be configured using SharePoint.
4. Employee Separation
Exit interview surveys are important for any organizations to analyse reasons for attrition. This survey can be done using SharePoint.
5. Workflows
HR processes involves many sequential approval processes or moving data between your HR systems and other applications or mailboxes in order to fulfill parts like onboarding an employee or provisioning them with access to your applications. Role changes, Departmental changes, role-based benefits etc. requires multiple level approvals and can be automated using SharePoint.
6. Surveys & Communication
Survey and Communication platform is important to conduct needs assessment, elicit opinions, and quantify opinion and intuition. There are many HR surveys where SharePoint can be utilized.
Employee 360 Degree Evaluation
Employee Job Satisfaction
Employee Benefits Satisfaction
HR Training and Development Feedback
Workplace Evaluation
Recruitment Satisfaction
New Employee Orientation
Conclusion
SharePoint integration with data visualization platforms like Power BI will help in getting the HR Analytics in place. Since Human Resource planning and strategy is mainly dependent on HR Metrics dashboard, it provides the information which is required for organizational decision making.
The laborious manual activities undertaken to accomplish simple tasks are not justified but it must be easy. And this is what SharePoint offers and Organizations started leveraging.
Talk to our experts to know more on our Web, Application Development & Mobility Solutions (WAM) and to get started with your SharePoint based workflows.