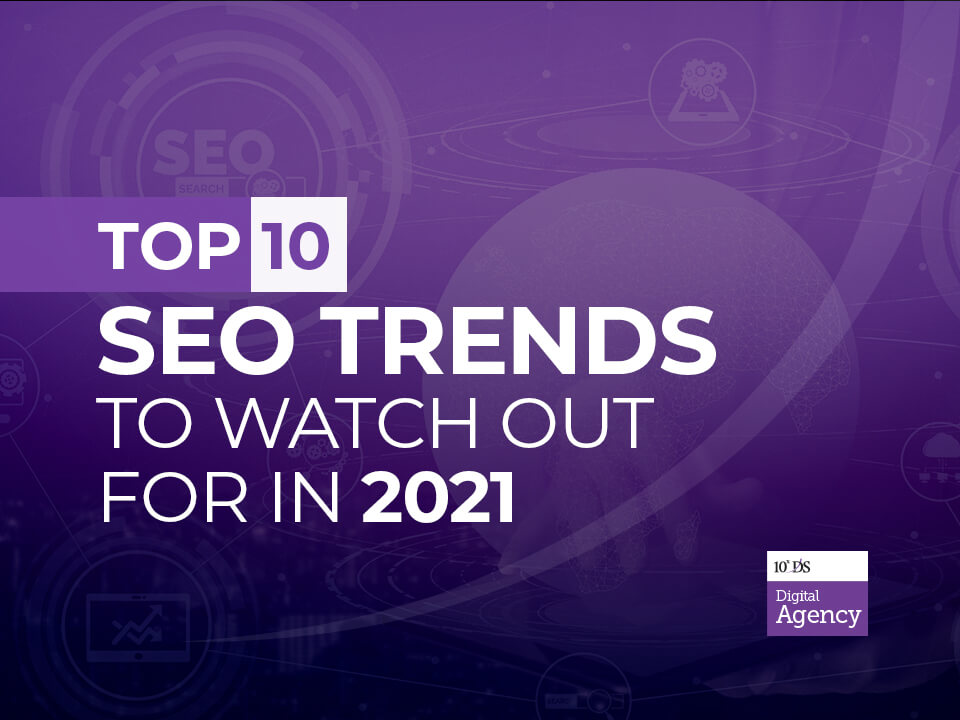 Top 10 SEO Trends to Watch Out for in 2021
Search Engine Optimization (SEO) has always been an effective way to drive more traffic to your website. Yet as technology is evolving constantly, it has brought many changes to how traditional SEO used to work. Today, you need to have a proactive approach to optimizing your website to gain better rankings on the search engines and attract consumers to it.
Top-performing SEO strategies demand paying attention to many metrics, such as backlinks, user engagement rates, social shares, etc. At the same it, it requires you to stay updated with the latest trends in SEO and make the right decisions to benefit from them. Here are the top 10 SEO trends that you need to watch out for in 2021 and prepare your SEO strategy accordingly.
1. High-Quality Content
Google has always stressed the importance of content quality and even highlighted that they take it as an essential ranking factor. It is expected that the EAT principle – Expertise, Authoritativeness, and Trustworthiness – will play a key role in determining if a website has useful and quality content in the upcoming years. In other words, keeping EAT in mind will help you to gain a better ranking.
2. Mobile-Friendliness
With the majority of online users looking for products and services on their mobile devices, search engines look to deliver the best experience by populating results that are optimized for small-screen viewing. The mobile-first indexing approach by Google will gain even more significance moving forward, as it is reported that more than 70% of internet searches will be on mobile devices by 2023.
3. Voice Search
Just as mobile search is booming, so is voice search. With innovative solutions like Siri, Google Assistant, Amazon Alexa, and others, voice search will become a mainstream thing within the next few years. It is even predicted that more than 55% of households will have a smart speaker by 2022, which will further fuel the voice search trend to reach new heights.
4. Long-Form Content
Studies say that long-form content with more than 3000 words receives 3 times more traffic than the average content length of around 1000 words. It is also found that they gain 4 times more shares and 3½ times more backlinks. As these metrics are important to rank higher on search engines, long-form content will be adopted by more websites in 2021 and beyond.
5. Traffic Quality
While getting huge waves of traffic was considered a good thing in the past, search engines have evolved to analyze websites based on traffic quality as well. So in order to secure a better ranking on search engines, you need to aim for audiences that will lead to improved conversion rates. This will depend a lot on your content marketing and SEO strategy.
6. Local SEO
Local searches have seen a massive surge in recent times in the wake of the COVID-19 pandemic. Consequently, search engines are updating their algorithms for local searches and using new methods of filtering data to populate listings on the SERPs that provide more value to internet users. This can create a lot of opportunities for businesses to serve local clients and gain a better reputation online.
7. UI/UX
Updating the user interface is one of the key elements of developing a successful website. It leads to a great user experience, reduces bounce rates, and facilitates higher conversions. All of that boost the search engine rankings of the site further, which is why refreshing the UI and UX will be a topic that will continue to be explored throughout 2021 and beyond.
8. Predictive Search
With the development of AI-driven tools for internet searches, the predictive search trend is likely to grow in the upcoming years. Google Discover, for instance, recommends content based on the behavioral patterns of the user and learning from the habits over time. It also works by identifying the most relevant websites that will likely interest the user so that it can provide more value.
9. Video Marketing
Video marketing trends have seen impressive growth in the past couple of years. YouTube alone has over a billion users, which makes creating video content an essential SEO tactic for business owners. Some experts even say that video content will surpass all other forms of content in the next few years in terms of consumption and engagement.
10. Data and Analytics
Data science is one of the most talked-about trends in the digital marketing industry these days. It allows you to analyze the search marketing campaigns, understand your audience, and create targeted messages. With proper analytical tools, you can identify referral sources, check redirects, find which pages are doing well, and even discover and fix the flaws in the others before it hurts your business further.
SEO is becoming more and more complex by the day. Therefore, you need to stay on top of all these changing trends to optimize your website and reap the most profitable benefits from them.
Talk to our experts to learn more about how you can navigate the evolving SEO trends and accomplish your goals of gaining top search rankings.