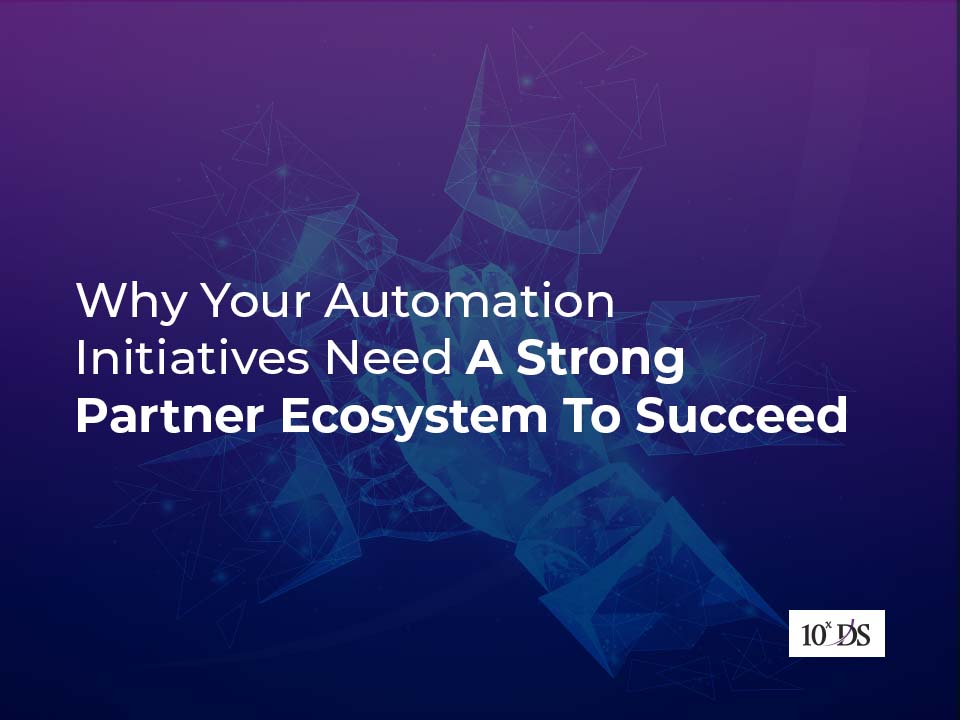 Why Your Automation Initiatives Need A Strong Partner Ecosystem To Succeed
Automation providers have started to build and develop relationships with networks of partners to help businesses achieve their goals. The partner ecosystems that are formed due to the partnerships will make it possible for automation providers to better meet demands.
Partners play an integral role when it comes to guiding organizations throughout their automation journeys. Companies that are working with partners will be able to better scale automation so that it can transform their business, integrate automation into existing activities, and take advantage of automation demand growth.
Several companies are working within specialized industries and geographic areas, which might create unique difficulties. It can be quite hard to port strategies from one industry or area to another. This will in turn make it hard for them to rely on just the best practices, which means that scaling might seem like a struggle.
Companies will be able to resolve such issues by partnering with enterprises that may help them to transform into fully automated enterprises. A partner ecosystem can turn your relationship with just one single partner into a relationship with several others. Such an ecosystem will enable companies to get access to different partners with expertise, tools, and skills, which will help them to easily scale automation.
Understanding Partner Ecosystem
A group of partners that have been enabled by the vendor can be called a partner ecosystem. Vendors will collaborate with partners for building complementary solutions. They also sell and market with partners for meeting unique types of customer demands or requirements around a certain technology.
Partners are experts who support and surrounds the vendor along with delivering service, providing expertise, and complementary technologies across domains, functionalities, geographies, and industries.
The partners in partner ecosystems can be divided into two types and are called technology and business partners. Business partners will be focusing on solutions and services that can help customers to create automation operating plans for scaling, starting, and implementing automation.
Technology partners put more focus on offering complementary technologies that can be easily integrated with the technology of the vendor so that automation adoption can be seamless.
They can help companies with implementation steps such as communications training, and coding. Partners help companies to start with automation pilots and develop them into fully-fledged programs. This even includes training the employees of the organization.
Business partners can also help companies to make technology decisions. Partners offers expertise to help and assist organizations to find the right products and features.
Creating an automation operating model for your company is also possible when you are working with a skilled partner. The specialized experience of the partner will make it possible for an organization to create models that can help them realize the benefits of automation sooner.
Choosing the Right Digital Transformation partner
Companies that are operating across several industries are changing the way they are operating by collaborating with partners for several digital initiatives. However, choosing the right partner might be a tough task for organizations looking for Digital Transformations. Organizations have to consider the expertise level of the partners implementing projects leveraging emerging technologies such as Intelligent Automation (IA), Robotic Process Automation (RPA), Artificial Intelligence (AI), Advanced Analytics among others. 10xDS has forged strategic partnerships and collaborations with industry-leading technology partners gaining the expertise and technological know-how to deliver world-class solutions and services to cater to the varied business needs of our clients across the globe. 10xDS is partnering with technology leaders like UiPath, Blue Prism, Automation Anywhere, Microsoft, yellow.ai, AWS among others to solve clients' business problems holistically. Partnering with 10xDS, organizations can create a roadmap for their digital transformation journey, enabling customizable, scalable, and flexible solutions that meet their needs. 10xDS offers a robust planning and execution strategy, leveraging the necessary technology building blocks.
Read More: How to Choose your Ideal Digital Transformation Partner
Conclusion
A partner ecosystem can be described as an ecosystem where partners will be getting access to innovative and advanced technologies, customers will be gaining more expertise and better solutions addressing their pain points, and vendors can offer better value to customers through their partners. So, it is important to choose a digital transformation partner or vendor having a strong partner ecosystem.10xDS leveraging its partner ecosystem offers comprehensive consulting and advisory support to help organizations identify opportunities for digital transformation, develop and implement solutions and maximize their ROI
Want to gain further insights into our services and solutions or if you are looking to jumpstart your Digital Transformation journey, talk to our experts!