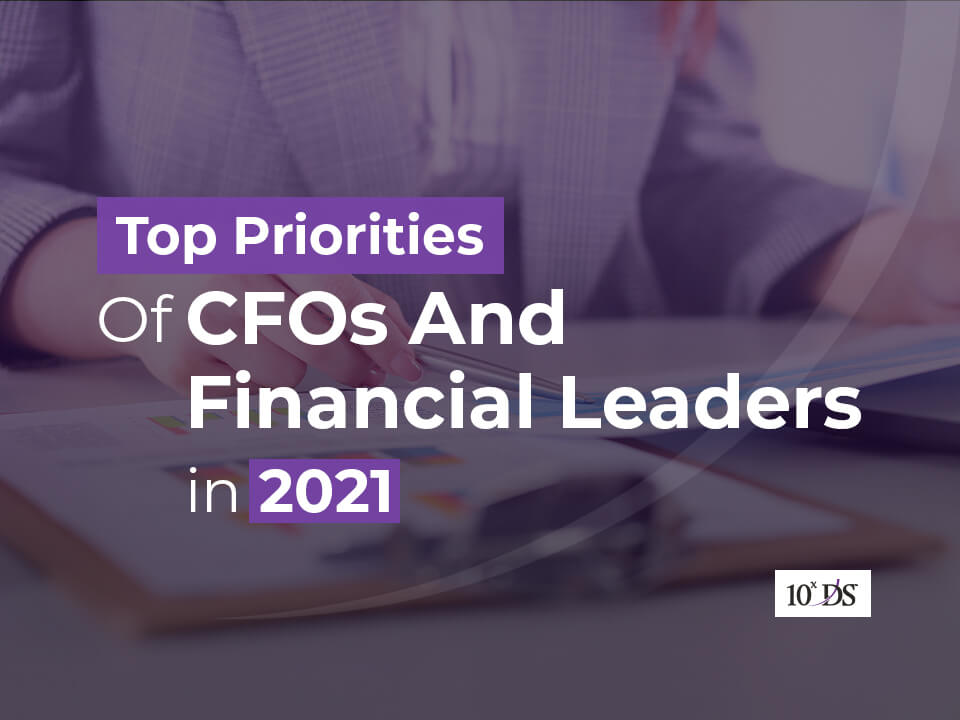 Top Priorities For CFOs And Financial Leaders In 2021
There is no denying that most businesses were not prepared for a Covid-19 type of disaster in 2020. The number of reported cases was relatively lower in the first month of 2020 and we all expected things to get under control in a few weeks or months. Unfortunately, that did not happen and most of us had to work from home, which initially made it hard for businesses to smoothly run their business and effectively communicate with employees.
The unanticipated spread of Covid-19 in the next couple of months caught several businesses off guard. Business Owners and leaders had to carry out business-related activities and operations remotely. This caused several challenges to decision-makers, to adapt to the new scenario. Financial leaders and CFOs of enterprises worldwide had to make a number of changes to their 2020 business goals to ensure their business survived 2020.
Priorities For Financial Leaders in 2021
It is a widely known fact that businesses of all sizes suffered due to the Covid-19 pandemic. The percentage of CFOs who were expecting huge revenue decreases in 2020 was around 70 per cent, according to PwC's COVID-19 CFO Pulse, June 2020. Approximately 20 per cent of CFOs were expecting revenue decreases by 50 per cent or more. These stats make it clear that several businesses are facing enormous losses as a result of the pandemic.
As offices have started to open and restrictions are being lifted, financial leaders are tasked with monumental recovery processes. Obviously, they are all focussing on restoring business as usual first. A study conducted by PwC revealed that one-third of 330 financial leaders in the US believed that it would take a minimum of six months to fully recover.
Here are some of the priorities for financial leaders and CFOs in the year 2021 after a challenging last year.
1. Cost Containment
One of the simplest and most effective ways that will help businesses to recover is to cut expenses whenever and wherever possible. A recent study conducted by PwC revealed that nearly 86 per cent of finance leaders are planning to implement cost-containment measures in 2021 to recover from the losses suffered during 2020.
Several financial leaders have already started implementing cost-containment measures that include reductions in operations, CapEx investments, and staff. We might be able to see several finance leaders implementing cost-containment measures in the next few months to make their recovery strategy successful.
2. Flexible Working Schedule
Remote work made it possible for several businesses to remain fully functional and operate even when we are in the middle of a worldwide pandemic. Until a few years ago, there was this huge stigma around remote working. Several business leaders were not ready to embrace flexible working schedules and remote work before Covid-19. However, most of these leaders are more likely to welcome remote working now.
According to a recent survey conducted by Gartner on 317 CFOs, approximately 74 per cent of companies were planning to shift to remote working even after the pandemic. A quarter of these companies were also planning to offer permanent remote positions to nearly 20 per cent of their on-site employees.
3. Workplace Safety
Organizations, employees, and others who do not have the luxury of working remotely will soon have to return to their office. However, before you ask your employees to come into the office, you will need to ensure that you have the right workplace safety standards in place. If you fail to do this, then you will be putting the health of your employees at risk.
Workplace safety will include measures like contact tracing plans, reconfiguring office layouts, flexible work arrangements, and implementing a chain of protocols on what to do if an employee gets sick. Many companies have started adopting state-of-the-art AI-based technologies like Computer Vision to prevent unsafe situations or accidents from occurring and the built-in algorithms can raise them for human attention so that preventive measures can be done. It is evident that financial leaders will have to play an integral role in ensuring workplace safety.
4. Digital Transformation
Regaining the business agility and resilience will be a critical aspect that most financial leaders will be focusing on, in this post-pandemic situation. Most financial leaders are now aware that going digital can help businesses to function flawlessly and ensure their monthly or yearly business goals are met. Emerging Technologies such as Intelligent Automation, Artificial Intelligence, Advanced Analytics, and others can help businesses gain this lost agility.
These technologies have a huge potential to increase service availability, filling the staffing gap, reduce costs and increase efficiency. For instance, automating repetitive, labor intensive and rule-based processes can help reduce the burden on the available workforce and they can be re-assigned for more value-added activities. Today most businesses are focusing on postponing purchases and upgrades of high expenditure on-premise software and hardware. Instead, companies have started embracing Digital Transformation to streamline processes leveraging technologies such as Intelligent Automation, AI, Analytics, and others to enable the necessary automation with much less investment.
Leveraging advanced data analytics technologies and tools, CFOs can expand their analytical capabilities and enable enterprise stakeholders to interpret and use critical financial data to make sound operational decisions.
Conclusion
Several financial leaders have already started implementing effective strategies and innovative techniques to recover from the losses they had to suffer in 2020. It is clear that businesses that are able to execute the crucial measures, strategic decisions and approaches needed to mitigate the situation effectively and the ones who are ready to welcome change will surely gain a competitive edge.
Embracing digital transformation and investing in exponential technologies such as RPA, IA, AI, Analytics, and others can make organizations more agile and help reduce costs, mitigate risk and significantly increase productivity.
Want to gain further insights into our services and solutions or if you are looking to kickstart your Digital Transformation journey, talk to our experts!