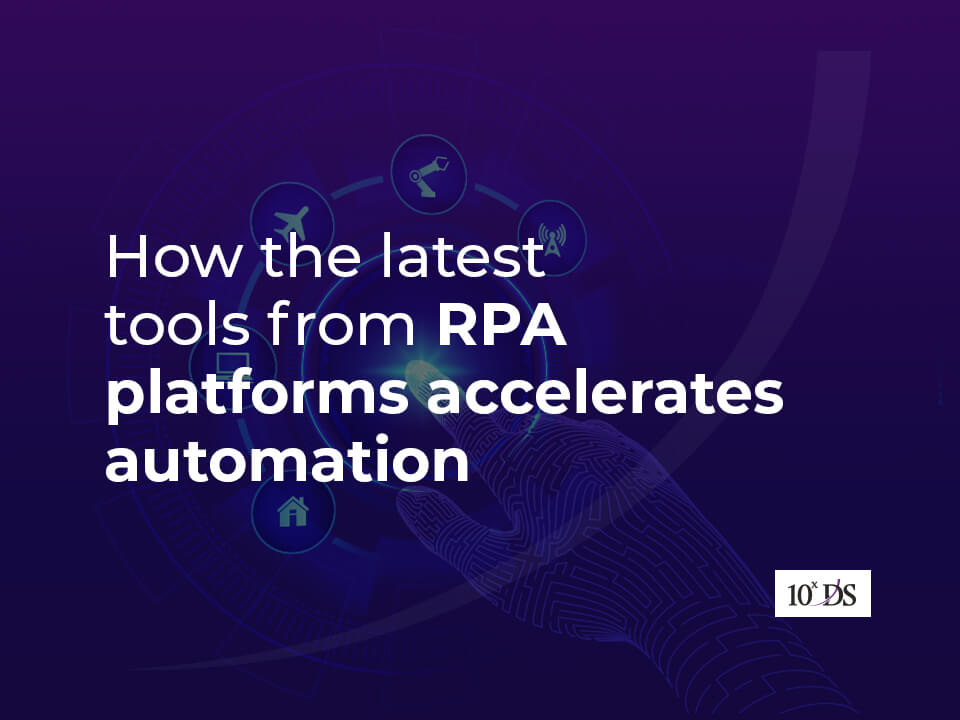 How the latest tools from RPA platforms accelerates automation
Automation is becoming increasingly intelligent, and the process of automation is turning easier too, thanks to the faster evolution of the top RPA platforms and new niche players entering the industry. We had a quick analysis of the tools offered by the leading RPA Platform providers in the market which delivers a seamless automation experience to companies and in turn, increases the rate of digital transformation.
UiPath
If you have a closer look at UiPath product ecosystem, they offer tools that make an end to end automation easier. For any automation, companies need a healthy pipeline. UiPath Automation Hub centrally manages the automation opportunities pipeline and turn ideas from anyone across the organization into automation with effective prioritization, faster implementation, and the impact to measure.​ UiPath Task Capture helps to easily create process maps and documentation. The tool records the regular workflows in detail. UiPath Process Mining uses the data from business applications to get a detailed understanding of complex business processes. UiPath Task Mining identifies and aggregates employee workflows, then applies AI to identify repetitive tasks to add to your automation pipeline. A Business Analyst's job is made easier with this palette of tools. They now know how work gets done and what to automate—and accelerate automating.
While many companies adopted automation, document-based processes required involvement from humans. This is where UiPath Document Understanding helps robots extract, interpret, and process data from PDFs and images. UiPath Integration Service allows UI and API integration within the same environment.
Blue Prism
Blue Prism also provides an easy and faster way to automation success. Process Intelligence provides an end-to-end solution for process and task mining, automation, and end-to-end monitoring. With its open architecture, Process Intelligence allows companies to integrate with other process mining tools as well. These tools help in fact-based planning.  Now let's discuss Blue Prism Capture. With Capture, Process owners can quickly and accurately capture their process and provide developers with a detailed prototype through an auto-generated Blue Prism process. It combines task extraction and computer vision to extract all the key components of a Process Design Document. Another lifesaving tool from Blue Prism is Blue Prism Automation Lifecycle Management (ALM). ALM uses the power of Wireframer and reusable templates to help companies design better quality automation quickly while simplifying complex and time-consuming process definition activities. Blue Prism Decipher deciphers structured, unstructured and semi-structured documents – such as invoices, purchase orders, and other documentation. Blue Prism also offers Blue Prism Accelerator for those enterprises that are using SAP systems. With this tool, there is no need to create automation for SAP from scratch as most of the scenarios are pre-built.  With Blue Prism Decision, companies can automate human-like decisions, which involve data, through machine learning (ML) – without needing data science expertise.
Automation Anywhere
Automation Anywhere offers Discovery BOT that captures user interactions with any application, unlike process mining that reconstructs processes using the data from event logs generated by enterprise solutions. The tool records activities such as mouse movements, clicks, etc. for identifying opportunities and automatic creation of bots. Automation Anywhere also offers IQ Bot which combines the power of RPA with AI technologies such as Computer Vision, Natural Language Processing (NLP), fuzzy logic and machine learning (ML) to automatically classify, extract and validate the information from business documents and emails.  Automation Anywhere Robotic Interface (AARI) improves employee productivity with a cloud-delivered digital assistant for everyone. As it is cloud-native, it helps to deploy bots to a global workforce at scale.
Conclusion
As you can see each of the RPA platforms mentioned above have top-notch tools at disposal to democratize automation on a larger scale.
Watch this space to check out our developer series articles and read more on the latest ones.