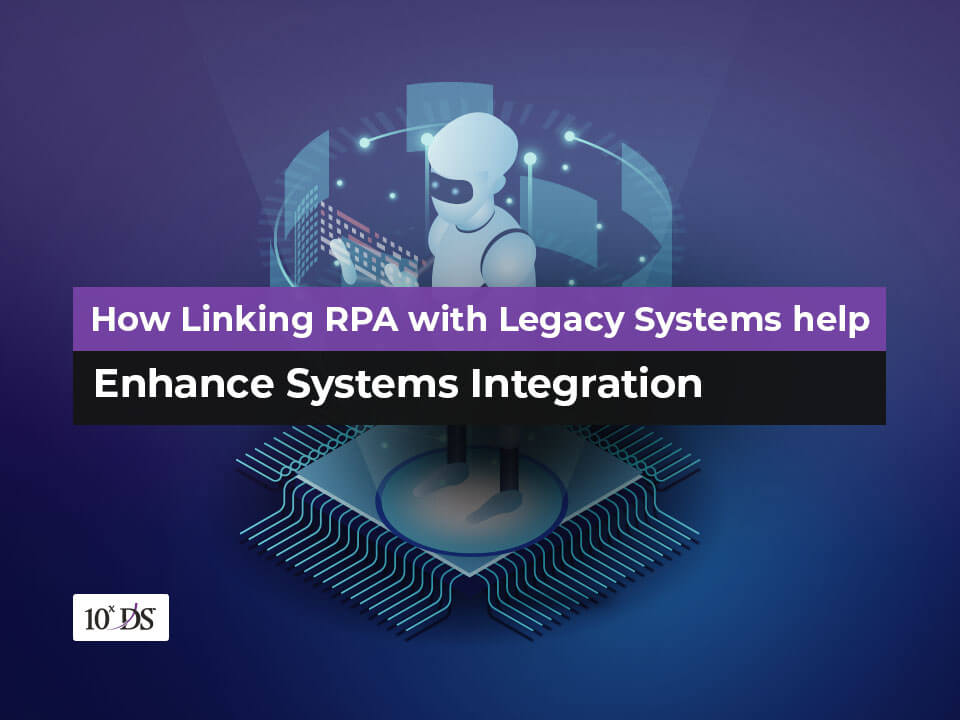 How Linking Robotic Process Automation with Legacy Systems Help Enhance Systems Integration
Robotic Process Automation (RPA) has emerged as a promising solution for businesses looking to embark on their digital transformation journeys. As the demands and habits of clients, customers, and companies are evolving constantly, businesses need to keep up with them by leveraging the power of modern technology. Yet it is seen that legacy systems often appear as a major roadblock to achieve competitive advantages as they used to. With the help of RPA though, these barriers can be navigated effectively.
RPA allows businesses to seamlessly transition from their legacy systems to upgraded solutions. Their major function is to automate manual and repetitive rule-based operations that can be a huge burden for businesses in terms of their resources and time. That is why reports say that RPA will be a key player in the automation market, driving enterprise investment to a whole new level in the next couple of years.
Employing RPA to Enhance Legacy Systems
RPA is a faster, flexible, and cheaper solution to deploy when compared to using APIs or integrated applications to upgrade legacy structures. APIs and integrated applications are generally ideal for high-volume transactions, but they also involve higher costs of deployment while delivering less flexibility. Besides, many of the mainframe legacy applications cannot be integrated through APIs either. This is where RPA holds the upper hand in enhancing such legacy systems.
Robotic Process Automation integration brings many other benefits for a business too, such as:
1. Short Implementation Time
As RPA does not require any coding or working with complex APIs and simply works by mimicking human interaction with the software, it allows businesses to deploy RPA solutions quickly and easily to react to new opportunities and ensure superior productivity.
2. Cost-Effective Solution
Implementing RPA tools does not need any dedicated skill or human resources, which can be quite intensive in other systems that work on APIs. This helps to lower the deployment costs while giving businesses a scalable solution to adapt to different operational needs as required.
3. Improved Security
There are no risks of data loss or security concerns when employing RPA solutions to integrate legacy systems when compared to the threats involved in using other alternatives. RPA allows businesses to fully control their access authorization and manage sensitive information safely.
How to Upgrade Legacy Systems by Deploying RPA Solutions
A study by Information Services Group (ISG) says that employing RPA tools to enhance legacy business operations can lead to a cost savings of around 37%. This number is bound to grow greatly as more and more businesses are looking forward to adopting robust solutions to facilitate their digital transformation. Yet again, there are some key points to consider when upgrading legacy systems with RPA solutions to ensure that businesses can make the most of the technology.
1. Identify the Business Operations in the Legacy Platforms to Automate
There are many operational tasks across different departments in a company that can be automated to create more agility. RPA can effectively automate rule-based, standardized processes, which demand structured and repetitive activities. With precise instructions, RPA solutions can automate things like data input processes, invoicing, error reconciliation, and even minor decision-making tasks. Therefore, it is essential to identify which business processes can benefit from RPA before integrating the software bots in the legacy systems.
2. Integrate Different Workflows across the Legacy Structures with RPA
RPA software bots can execute business tasks much faster as well as with significantly fewer errors than manual processing may involve. This allows businesses to combine workflows across various departments and the legacy platforms to boost agility and benefit from better speed and accuracy. Old systems like CRM, email infrastructures, finance systems, etc., can be integrated with RPA tools to make the tedious job of cross-platform data entry and processing simpler and more effective.
3. Improve Processes without Risking Any Disruption of Legacy Systems
Intelligent automation allows businesses to combine the power of Artificial Intelligence (AI) and Machine Learning (ML) to further modernize RPA tools and plan the upgrade of legacy solutions in a staged manner. This helps to ensure that there is no disruption in the existing business processes as the legacy systems are being improved, which leads to reduced operational costs and superior efficiency and accuracy. RPA bots also free manual resources that can be dedicated to other activities and generate more income.
Conclusion
The changing trends across industries require upgrading business models to cater to the varying demands of the market. As relying solely on legacy system architectures can no longer facilitate that, it is high time to adopt digital technologies and create fully integrated applications to meet the needs of modern-day business. RPA offers a foundational strategic solution, which can answer all such needs of an organization in a cost-effective way.
Talk to our experts to learn more about RPA solutions and see how you can integrate your legacy business systems with automation tools to stay competitive in the industry.