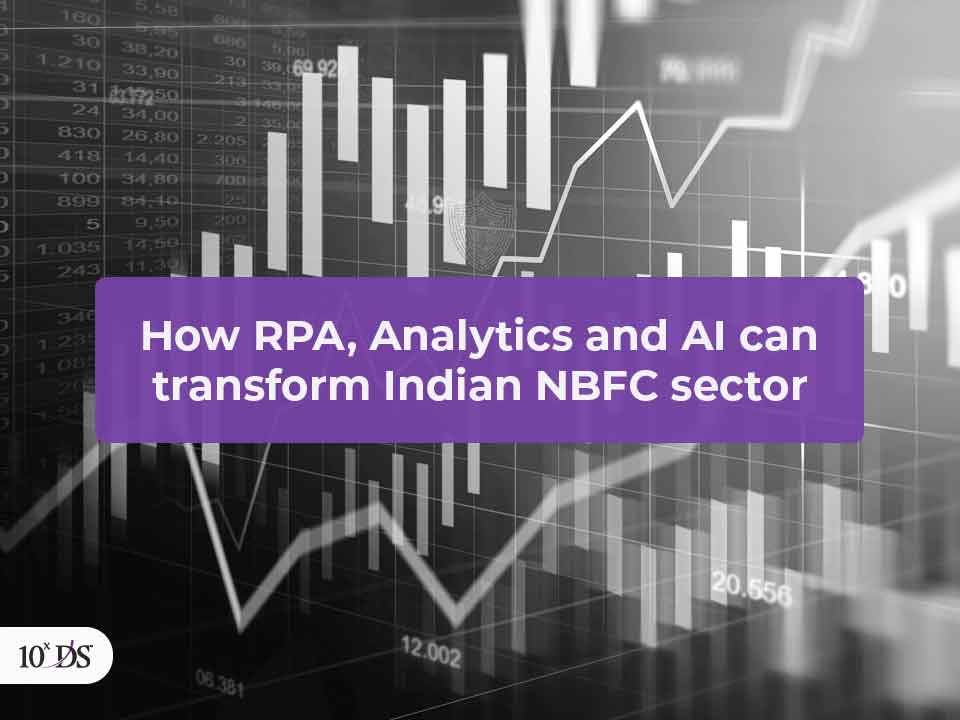 How RPA, Analytics, AI and emerging technologies can transform Indian NBFC sector
Non-banking financial companies (NBFCs) have played a vital role as the financial intermediaries catering to the diverse financial needs of millions of individuals and thousands of companies in India. As the country march towards financial inclusion, these institutions have been primarily helping the economically weaker sections of the society. For these sections of people, most nationalized or scheduled banks are inaccessible, so they hugely rely on NBFCs to meet their monetary needs.
Small businesses, start-ups and MSMEs slowly mushrooming in the country, who also find difficulty in getting loans on time, are dependent on funds offered by NBFCs. Even the customer base of these organizations is getting pretty wide, as they offer loans for a variety of requirements to the urban as well as rural areas. They are gaining more popularity as microloan organisations, insurance companies, investment houses and among others.
With technological advancement, especially in the last decade, several NBFCs have been able to tap into regions and segments extending financial services to rural regions that are still deprived of basic financial facilities. NBFCs these days have been raring to go on the emerging technologies front, harnessing the maximum advantage of the modern-day market opportunities.
With this trend going on, many have started leveraging the latest technologies such as Intelligent Automation (IA), Robotic Process Automation (RPA), Artificial Intelligence (AI), machine learning, analytics and big data, among others to build products for today's modern customers.
Use Cases in which NBFCs use Emerging Technologies
NBFCs have started using Data analytics and advanced analytics models to target products to customers segments, acquire new customers, asses and predict credit risk of customers and others. Understanding customer data can help determine their pain points or specific requirements to develop a new customized product for them. IA, RPA and AI, as it turns out, will help create value by augmenting business processes, in the NBFC sector where customer-centricity is central to the business. Moreover, automation of repetitive, rule based yet critical manual processes frees up time for the workforce to indulge in more creative and strategic thinking providing necessary human insights.
Here are some use cases and real-world examples in which NBFCs use or can use emerging technologies
1. Intelligent Automation, RPA and AI in NBFCs
Intelligent Automation, RPA and AI have been revolutionizing process automations across industries and functions around the globe. They improve efficiencies, optimize operations, improve the speed and accuracy of core business processes and as a result cost savings.
As Digital Workforce, IA, RPA and AI helps in replicating actions performed by the human workforce to reduce or eliminate human intervention. These automations are usually implemented in critical yet mundane, repetitive, and manually intensive processes. These technologies can be used widely across processes such as eKYC, disbursements, repayments, regulatory reporting, among others. Virtual Agents and Chatbots would play a huge role in allowing customers to self-service themselves 24×7, easily enabling them to get relevant information when they need it and various other activities.
2. Loan Portfolio Analytics & Dashboard
NBFCs face the risk of bad loans, lack of reliable risk scoring methods, limited or no visibility into loan performance insights and such other challenges. In some cases, the client leadership may not have access to timely information in terms of portfolio status, loan application status, turn-around time, application ageing, salesmen performance, funding, exposure, collections and others. A technology-driven process to validate the customer credit worthiness is needed in such a scenario.
10xDS developed a-process driven Loan Portfolio analytics solution, leveraging the flexibility of data analytics and advanced analytics models. The solution can help organizations gain Insights into loan application portfolio, exposure and funding aspects, customer insights, risks, loan performance and more. The solution enables better assets management, with early identification of defaulters based on trends analysis.  NBFCs will be able to gain better customer repayments, based on analytics forecasts and proactive customer connects. Developed in a Software as a Service (SaaS) model, the solution reduces upfront investment costs on infrastructure and hardware, enabling dynamic scalability.
3. Bank Statement Reconciliation
The bank statement reconciliation is usually a high-volume process requiring quick turn around time. In many NBFCs the process is manual in nature and prone to error due to involvement of MS Excel based calculations and formatting. The high volume of reconciliations requires considerable manual effort and time to complete the process on time.
10xDS developed an automated solution to streamline this process for a leading NBFC in India. The company faced an uphill challenge of performing reconciliations of around 4,500 Bank accounts per week on an average. The process involved 45 Bank portal logins and credential management which was posing an operational risk. Moreover, operational delays due to the high volume resulted in customer complaints, which was bad for business. 10xDS leveraged its proprietary orchestrator cum dashboard solution to design the solution. The solution enables process execution based on dynamic inputs from user, scanning the emails in scheduled time frame with exception handling. The solution increased efficiency, eliminated human error, increased customer satisfaction, enabled end to end automation and provided process analytics dashboard for enhanced monitoring.
Strategic Partnership with Key Ecosystem players for Digital Transformation
Embracing and adopting these emerging technologies is a step in the right direction for the thousands of NBFCs in India. Embarking on the digital transformation journey, automating key processes can help improve their bottom line and optimise their operating expenses.
To successfully streamline the processes leveraging these latest technologies the NBFCs need to develop strategic partnerships with key ecosystem players. Much different from usual digitization initiatives, these require new and specialized technology capabilities, expertise and experience handling real-time projects and transformations in the latest technologies. These experts and technology leaders in the industry can help strategize, execute and reshape the business processes for successful digital transformations.
How 10xDS can help?
At 10xDS we have a strong and multifaceted team of expert professionals with extensive business consulting and technology experience. We deliver solutions harnessing a blend of exponential technologies such as automation, analytics, AI and others to realize the customer's most important business goals. We have successfully delivered several digital transformation projects for Banking as well as Non-Banking Financial Services.
Want to gain further insights into our services and solutions or if you are looking to jumpstart your Digital Transformation journey, talk to our experts!