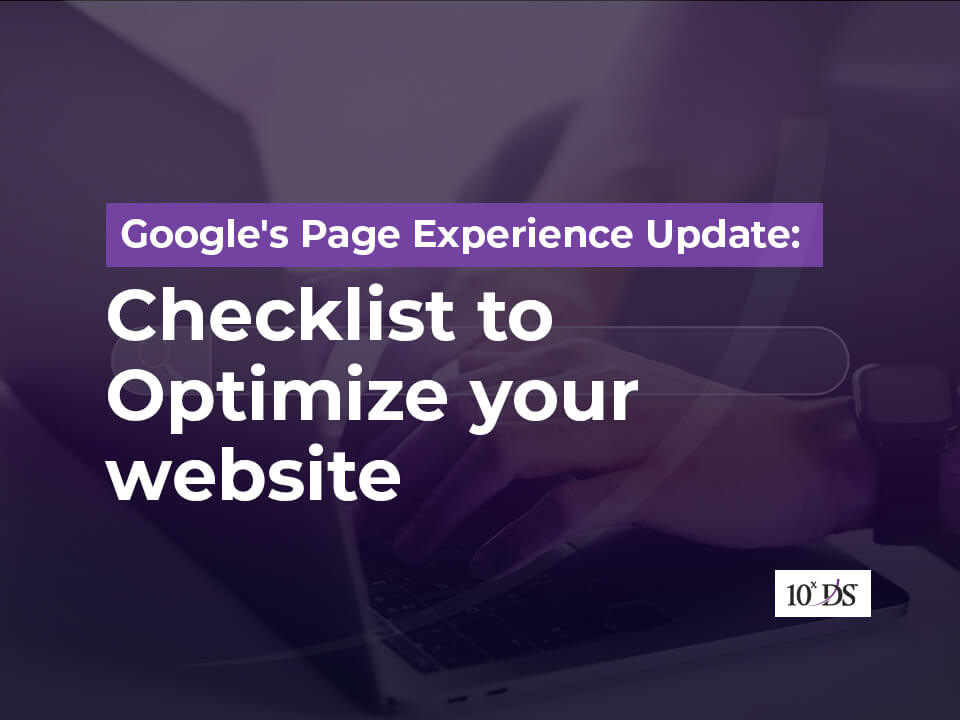 Google's Page Experience Update: Checklist to Optimize your website
The Page Experience Update of the search engine giant, Google, started rolling out on June 15, 2021. The recently released Page Experience Update has combined Core Web Vitals with the existing user experience signals of Google such as HTTPS, safe browsing, no intrusive interstitials, and mobile-friendliness.
Google's Page Experience Update will reward websites, which ensures a fine user experience by offering them a ranking boost. Website user experience can be defined as a term, which refers to the ways website visitors or internet users interact with a website.
A great user experience will ensure a delightful and seamless browsing experience for website visitors. You will be able to measure the quality of your website by using the Core Web Vitals report and Google Core Web Vitals.
How does the Page Experience Update affect my website
Website admins and digital marketers who fail to prepare their site for the latest Google update might see a drop in the Google ranking of the unoptimized web pages. Fortunately, you will be able to manage the impact of the Page Experience update with the help of technical SEO services and responsive web design.
However, Page Experience ranking factors are not the only elements that you will have to consider for retaining the Google rank of your website. In fact, you will need to consider other existing important ranking factors such as keyword relevance, page load speed, content quality, strong links, and more.
Google Page Experience Update Checklist
Google often tends to release new updates with no prior warnings or announcements. This can be quite hard for online marketers and SEO professionals, as they might not get enough time to optimize their website for the latest update. However, that's not the case with the latest Page Experience Update of Google.
Google has already made it clear that this update was coming approximately a year ago. This means that it can take you quite some time to optimize your website for the newly released update. Google has even provided guidance on how you can improve Core Web Vitals and tools for measuring Core Web Vitals.
Here is a comprehensive checklist to help you get started.
The main page content must load in 2.5 seconds or less
The page input delay should be 100 milliseconds or less
CLS or Cumulative Layout Shift score has to be 0.1 or less
URLs must pass the mobile-friendly test
There shouldn't be any issues on the Security issues report
HTTPS should be implemented and there shouldn't be any mixed content errors
Website content has to be useful, relevant, and readable
It would be great if you could also do the following things
Prioritize website content quality
Opt for responsive web design
Upgrade website hosting
Compress all large files on your website
Optimize the media elements
Fix redirects and broken links
Apart from that, experts in the field of online marketing also recommend website administrators to do the below-listing things to keep up with the latest update of Google.
Minimize website load time with the help of third-party tools
Running a full audit of your website to identify potential issues
Monitoring Page Experience on a daily basis
Google Ranking Factors to be Prioritized
It is estimated that the entire process of optimization might take at least 15 to 40 days to complete. This means that you will need to prioritize the ranking factors and work on each one of them if you want your website to not drop any rank. Experts in the field of UX design recommend digital marketers and website owners prioritize the following three elements of their website.
1. Responsive Website Design
It is crucial to ensure that website visitors will be able to properly view all the pages on your site on both mobile and desktop devices. Google has recommended opting for responsive web design instead of optimizing and maintaining a separate site for mobile users.
2. Page Load Speed
Most of you will probably be aware that even a single-second delay in the website load time or page load speed can be quite costly. This is because most internet users will immediately exit and prefer not to revisit websites that load slowly.
So, you should regularly check the page load speed and make necessary changes to your website if and when necessary.
3. User Experience Design
Designing a mobile-friendly website and improving the page load speed of the website are quick solutions. It is important to come up with both long and short-term plans to comply with the evolving user experience standards, page speed requirements of Google, and more.
Conclusion
Page Experience has become an integral part of the ranking algorithm of Google along with other metrics. This means that businesses need to put more focus on ensuring a fine and engaging user experience to website visitors. Google ranking signals and guidelines keep changing, to make the entire user experience and several other aspects better, and they keep evolving with each update according to what is best for the user.
10xDS Digital Agency, having an experienced team, would best help you assess your website, leverage tools to measure and understand the core web vitals and create a plan to enhance the Page Experience ranking signals. Talk to our experts to know more!