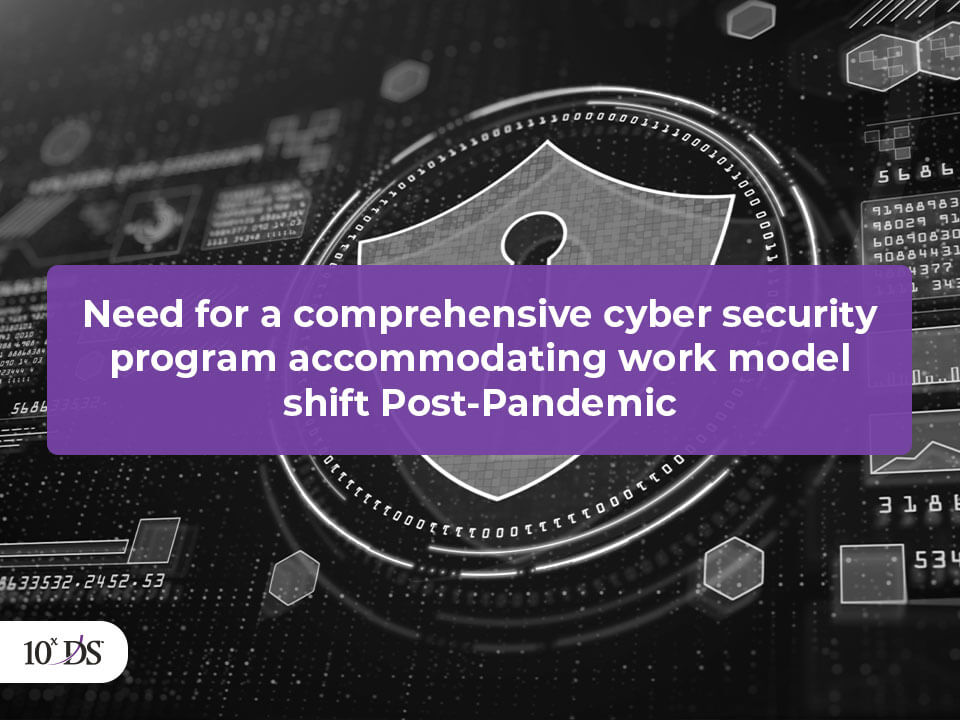 Need for a comprehensive Cyber Security program Post-Pandemic
Need for a comprehensive Cyber Security program accommodating work model shift Post-Pandemic
According to Gartner, by the end of 2020, 100% of large enterprises will be asked to report to their board of directors on cybersecurity and technology risk at least annually, up from 40% last year and cyber security is now becoming a board room matter. This will be accelerated even more post the pandemic situation.
Some of the security questions your board will inevitably ask you sounds like:
Are we 100% secure? Are you sure?
How bad is it out there? What about what happened at company X? How are we compared to others?
Do we know what our risks are? What keeps you up at night?
How did this happen? I thought you had this under control. What went wrong?
While the demand for security professionals continues to grow, the number of people with the skills and experience required to fill these positions is not keeping pace. The scarcity of skills is compounded by the fact that IT security teams are expected to play a larger, more strategic role — one that will drive company growth, help organizations take smart risks with new technologies and meet increasing enterprise-wide demands for information security support. The compliance requirements are increasing day by day but the budget for cyber security has not increased significantly especially in the pandemic situation where companies are struggling to ensure cashflow.
Furthermore, digitalization is driving the need for a wider range of roles that entail new skills and knowledge. The increasing demand for security expertise places significant pressure on CISOs to exponentially scale their teams' work. Demand is driven by massive investments in digital transformation, requiring CISOs to do more with existing staff while planning for shifts in future talent needs. With all these, CISOs strive to proactively identify and solve/avoid internal and external security threats, use existing infrastructure at the maximum potential to minimize risks and build a balanced IT security strategy for your organization. They also look forward to combining their cyber security expertise with knowledge in emerging technologies such as RPA, AI, ML, Analytics etc to help cyber organizations super-efficient with minimum budget
Here is an example, of how Vulnerability management process can be transformed using the emerging technologies.
This is where NXSecure, a cyber vertical of 10xDS can assist you!
10xDS NXSecure managed services ensure that the threats are identified early, and the gaps are fixed using cost-effective solutions by maintaining a strategic balance between defence and response to ensure minimum expenditure.
Talk to our experts to get the cyber security program customized for you from NXSecure which is a fully integrated comprehensive cybersecurity transformation program followed by managed cybersecurity services. It also provides an opportunity for enterprises to pick and choose security services from a vast list of cybersecurity offerings.