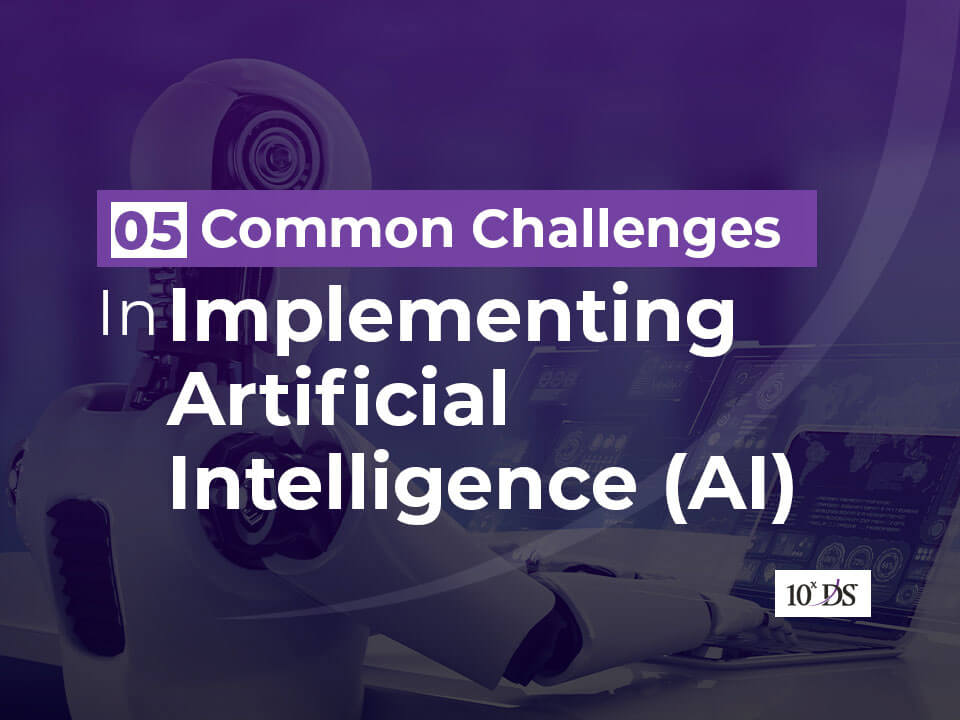 5 Common Challenges in Implementing Artificial Intelligence (AI)
Deep learning, machine learning, artificial intelligence, and other innovations in the field of technology have become the driving force for several industries. According to a 2019 survey, the implementation rate of AI among enterprises was around 37 per cent in 2019. This indicates an increase of 270 per cent in AI deployments over the span of just four years.
AI as a technology has been hugely employed to tackle the spread of the Covid19 virus ever since last year. Several healthcare organizations have been using AI for drug discovery, diagnosing the risk of Covid19 outbreak, and service delivery. The use of advanced conversational tools and AI technology has made it possible for several businesses to work remotely along with ensuring that the demands of customers are met without any delays.
Challenges of Implementing AI
AI is a technology that has the ability to revolutionize manufacturing industries, healthcare, space exploration, and more. Artificial Intelligence is growing and gaining popularity at an excellent rate. This growing popularity of AI has urged several businesses to invest in the development and research of different AI applications like robots and automated cars.
However, it is important to note that AI is still facing a number of challenges. Here are some of the common challenges that most companies face when trying to implement Artificial Intelligence.
1. Determining the Right Data Set
As most of you are probably aware AI systems are driven and developed by leveraging quality data. This is why the process of AI implementation should start with the use of the right set of data. It can be quite hard to determine which data to use, because different types of data will be flowing across organizations.
If you want to improve the decision making and learning process of AI, it is important to identify and use the right set of data. To do this, businesses may have to get in touch with experts in the field of Artificial Intelligence, to help them guide through the correct pathway and approach to achieve the desired results and enable transformative digital experiences.
2. Data Security and Storage
Most AI applications make use of a significant amount of data for learning and making intelligent decisions. The drawback of utilizing large volumes of data is that it may create a storage issue for businesses. Moreover, data-driven automation in business operations may result in issues related to data security.
This is why it is integral for businesses to embrace the best and right data management environment if they want to implement AI. Such a data management environment will not just offer greater security to sensitive data, but it will also make it simple for businesses to access siloed data for AI and ML projects.
3. Infrastructure
Replacing outdated infrastructure with traditional legacy systems still continues to be a major challenge for most organizations. Most Artificial Intelligence based solutions have a high level of computational speed. AI-based systems will be able to achieve more speed if your business has a substantial infrastructure and high-end processors.
A recent report by McKinsey claimed that businesses that are adopting AI technology are the ones that are ready to take their business journey beyond the digital frontier. Businesses that are planning to implement AI should consider building a robust environment and flexible infrastructure fully compatible with AI-based solutions or applications.
4. AI Integration into Existing Systems
It might come as a surprise to many readers when they hear integrating AI into existing business systems is a challenge for most businesses. In fact, this is one among the most common challenges most businesses face when trying to implement AI.
Businesses looking for proper implementation of Artificial Intelligence into their existing systems will require the help of AI solution providers having extensive expertise and experience in the field of AI, from conception to deployment.
5. Complex Algorithms and Training of AI Models
The function and performance of business intelligence operations heavily rely on AI algorithms. Enterprises planning to implement AI should have a clear idea of how AI-based solutions or technologies work and will be able to transform their outcomes. Once you have implemented or created AI-based algorithms, you will realize that continuous training of ML or AI models might require considerable manpower which can become quite challenging for the enterprise. However, the benefits of implementing AI solutions in the enterprise far outweigh the challenges. 
Conclusion
Businesses will have to familiarize themselves with AI, which will help them understand how AI works. There is no denying that implementing AI to businesses can have several challenges and you will start noticing these challenges when creating an AI strategy for your business. Adopting a step-by-step and strategic approach will simplify the process of AI implementation to a certain level.
Talk to our experts to help you with the perfect AI technology adoption to streamline your business processes, drive better value for your employees and customers, and accelerate growth.