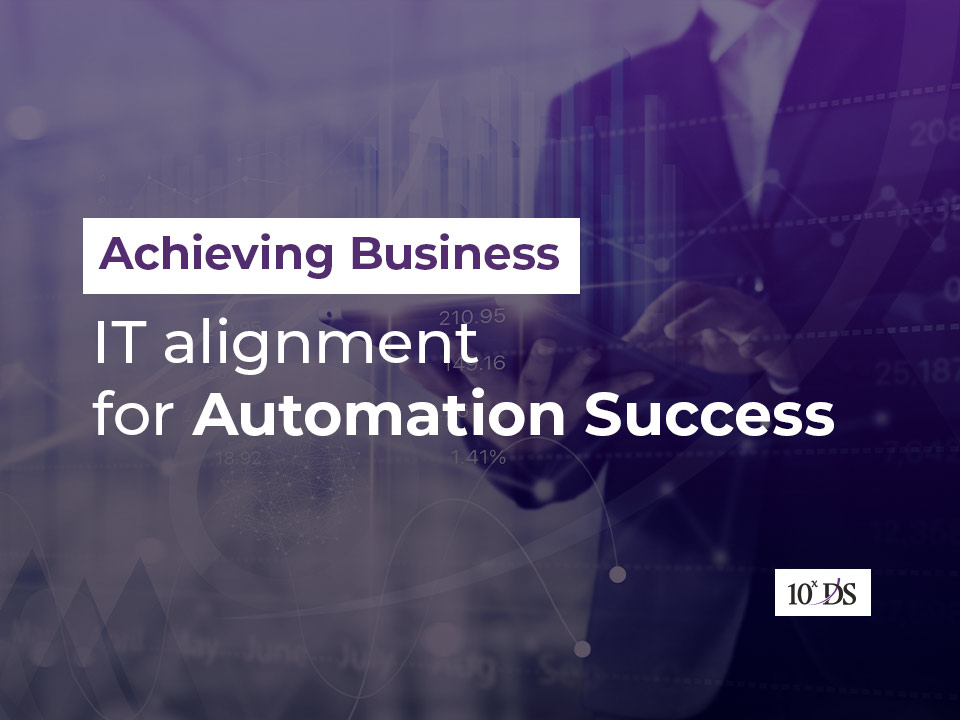 Achieving Business – IT Alignment for Automation Success
For several businesses across industries, processes require some level of manual effort and human intervention. This can be anything from looking up information in an enterprise ERP system to reviewing paper-based documents or interacting with other humans for task completions. There is a huge dependency on the speed, accuracy, and effectiveness of human workers to enable better process efficiencies. This is where emerging technologies like Robotic Process Automation (RPA), AI, and others, can help businesses automate repetitive manual tasks so that human worker-force can focus their attention on more value-added activities.
Why Business-IT alignment is important
Organizations rely on their IT to enable automation solutions to streamline their processes. However, due to several reasons these solutions are not at times optimized to address the specific challenges of the business. Whenever businesses need to make changes, they would require proper coordination with IT to determine requirements, allocate funding, and plan automation. This usually is a time-consuming process requiring months to complete, delaying the automation as there is a lack of proper Business and IT alignment. Business-IT alignment can be difficult at times and more difficult it is to keep it going.
For the success of automation initiatives, it is necessary to take time to research the technology, capabilities offered by the vendors and study the viability and effectiveness of the automation solution in streamlining your business processes. Then comes the important part of aligning your business and IT.
Here are some of the steps that businesses can take to enable proper Business-IT alignment to implement automation solutions.
It is crucial to involve the IT team early on in the implementation program to properly understand the business goals and strategies. It is important to have the top IT leaders having knowledge and influence across IT, starting from the initial stages of implementation of the automation solution.
There would be automation technology-related knowledge gaps in the IT infrastructure, security aspects, and other processes involving IT and automation process candidates. In this stage, it is important to fill in these critical knowledge gaps leveraging the experience of implementation partners and the technology vendor the company has chosen for the digital transformation.
Then, it is important to bring the people with the right experience in the relevant processes involved in the automation and IT onto the automation program team to properly facilitate the implementations.
With the above three tactics in place, organizations looking to implement automation solutions can achieve extensive business-it alignment throughout. This way the infrastructure team, application team, information security team, internal audit team, legal team, IT service providers, associated automation vendors and implementation partners, among others will be properly aligned towards the successful implementation of the automation solutions across processes.
Looking at the larger view and assessing impact for greater stability and sustainability
It is important to ensure the sustainability of automation solutions. For this, the IT and process teams should understand the impact expected with the automation solution implementation to properly set a foundation for stability and sustainability. Organizations need to create a lot of capacity fast as the most appropriate path to sustainability can be through early scale. Understanding the impact will be crucial for the success of automation.
Organizations should survey and research not just about the suitability of the automation platform used, but should also look at the vendor's customer support infrastructure and partner ecosystem. And while choosing a Digital Transformation partner, it is important to value experience above all else. Digital transformation projects require a different approach and thinking. Organizations will require a strong ecosystem of experts and technology partners to help strategize, execute, and reshape business processes and operations leveraging the latest technologies.
Process Standardization through Automation
Standardizing business processes in large organizations having several departments and offices in various locations can be difficult, complex and time-consuming to execute. Moreover, people find it difficult to find a good enough reason to standardize as it's hard work for results that will take a long time to be effective.
When organizations embark on a digital transformation journey, people are far more motivated to standardize the processes, especially when automation is seen as the reward. When processes are standardized, automation can happen much faster than non-standardized processes. However, it is very important to understand that through standardization can be helpful, it is better not to make it a prerequisite for automation because if the standardizations are very time consuming, the executions can slow down the momentum of automation projects.
Conclusion
Business-IT alignment is key for successful digital transformation or automation initiatives, and its importance cannot be overstated. The internal and external teams involved such as the infrastructure team, application team, information security team, process teams, and the associated automation and implementation partners should be properly aligned to ensure smooth automation journeys. The prospect of driving and successfully implementing automation across the enterprise leveraging emerging technologies like RPA, AI, Analytics, among others, means moving fast, early scale, and prioritizing sustainability of these projects.
Choosing the right digital transformation and consulting partner is the first step to ensure the success of your automation projects and transformation journey. Talk to our Digital Transformation consulting experts to know more.