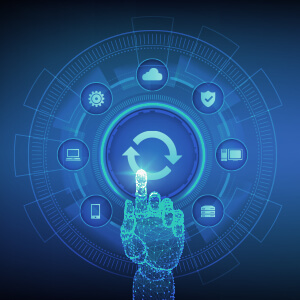 Comprehensive RPA tool upgrade service offering
10xDS launched a comprehensive RPA tool upgrade service offering for organizations to systematically upgrade to newer versions of RPA tools. Organizations may require tool upgrade for various reasons such as end of support for current version by RPA provider, Compatibility issues arising due to change in environment, moving from on-premise to Cloud infrastructure or to a new OS, among others.
As part of the offering, 10xDS consultants conduct Tool Agnostic Review to assess the impact of upgrade on business, effort, and cost. The technical team then conducts Tool Specific Review to assess the complexity of the upgrade. Business, IT-Infra and Technical team collaborates to build an upgrade strategy tailored to the needs of the organization. 10xDS offers three flavours of upgrade model: 1. Upgrade – Install the new version of tool and import the same working code. 2. Install the new version of tool, identify issues, and modify the code to get the BOT working optimally. 3. Install the new version of tool and redevelop the solution. Availing 10xDS RPA tool upgrade service enables reduction of the number of existing issues since an upgrade ensures optimal working of BOTs, with issues fixed and new features enabled. Organizations can deal with obsolescence of earlier tools and stay updated.