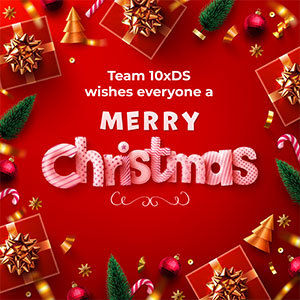 Team 10xDS wishes everyone a Merry Christmas
Christmas is almost here, and there is no better occasion to wish for the best to all. As we look back, the year 2021 witnessed several companies, consumers, and people worldwide rapidly adopting new behaviours in private life as well as in everyday work, owing to the pandemic.  Remote work and virtual meetings have become the new norm and we may see faster adoption of automation and AI technologies in organizations across the globe in the future. At 10xDS, thanks to the solidarity of the whole team and great commitment of each and every one of us, we could successfully master the year 2021. Our team was working in full swing remotely as well as on premises driving digital transformations for our global clients.
Team 10xDS wishes everyone a Merry Christmas.  Let the season of hope usher a new beginning and brighter future. Unlike last year, Team 10xDS looks forward to bring the festive cheer not just online, as some of our colleagues will be celebrating Christmas at our office premises. The team is planning the whole celebration with exciting games, competitions, and fun time – online as well as offline.