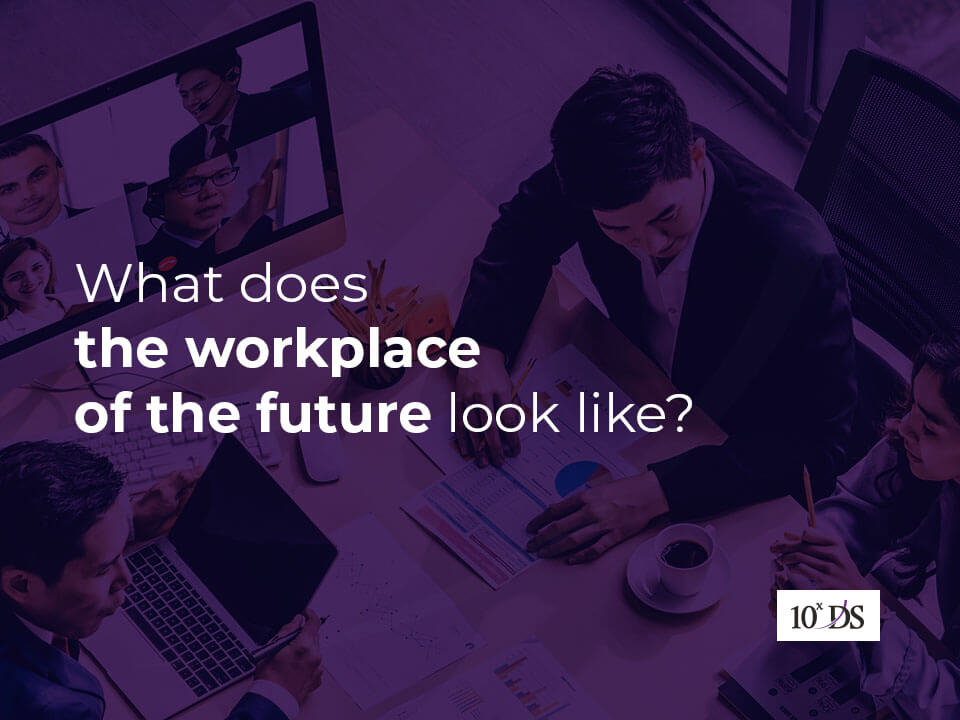 What does the workplace of the future look like?
There is no straightforward or scientific method to know and assess what the workplace of future looks like. However, we can anticipate that the recent changes in the way work is perceived, and the technological transformations worldwide may shape the course of the future. We are witnessing an attitudinal shift in the way enterprises and employees reflect on the value that the workplace brings, wherever it is.
The workplace may not be a cubicle, a cabin, an office, it may not even be a place at all. It might be more talent-centric, with the ability of people to work from any place, anywhere and almost anytime, leveraging the modern tools and technologies. Such an empathetic workplace model offers employees the flexibility to choose their own workplace preference, be it on-site, remote or hybrid. We can anticipate more and more organisations adopting emerging technologies to enable their teams with better opportunities to connect virtually, with an increasingly mobile workplace where activities happen in the virtual world.
Digital Workplace of the future integrates – digital, physical, and the human
The digital workplace of the future will have intersections and integrations between the three workplace aspects – digital, physical and human. The future workplace will give importance to the use of technology to empower people to communicate, work together, collaborate, and solve problems, enabling better efficiencies and productivity.
The modern technologies will also help to keep the employees up to date through their training and skill development programs done online, through learning platforms or online courses conducted by companies. Even in bolstering soft-skills, employees will likely be able to rehearse their presentations or public speaking with handy virtual assistants providing quality feedback on their performance.   In short, the workplace of the future will witness human employees working side by side with digital ones and such digital enablement can allow future enterprises to transform and streamline processes to boost their performance and enhance ROI.
Some of the major trends that will define to workplace of the future for companies
1. Embracing Remote Work
Though many companies have started returning to "normal" in 2021, the new normal may include employees working remotely at least part of the time. According to Gartner, 51% of all knowledge workers globally are expected to be working remotely by the end of 2021. Moreover, remote workers will represent 32% of all employees worldwide. Company leaders worldwide expect that employees will want more personal space and enterprises will likely reduce their brick-and-mortar offices and real estate holdings. As per the report of CoreNet Global, 70% of companies will reduce their real estate footprint in the coming years. Even the workspace may become more agile with flexible office furnishings, with easily movable desks, spaces designated for quiet work, while others earmarked for team meetings and group discussions.
2. Emphasis on employee health, hygiene, and safety
In the post pandemic work environment, companies across all industries will have to ensure the health and safety of their employees, not just those industries known for being dangerous. Workplace testing protocols, state of the art ventilation systems, temperature and high-tech detection systems and disinfectant tools will become a new norm in workplaces.
3. Companies to rethink and redefine work to integrate people with machines
The pandemic scenario forced companies to adopt more digital and automated solutions to cater to operational and business needs. According to a study conducted by McKinsey, 85% of companies accelerated the digitization process of their businesses and 67% companies expedited their use of automation technologies and AI, to streamline processes. Several companies have started automating manual and repetitive processes, involving multiple data sources, disconnected systems to reduce bottlenecks and improve KPIs. Technologies such as Artificial Intelligence (AI), Robotic Process Automation (RPA) and Intelligent Automation (IA) are non-invasive and do not require much human intervention. Applying them to manual-intensive processes and workflows can significantly help to streamline systems, processes, and operations. The increased use of technology doesn't mean employees lose their jobs. They can be reassigned to devote their quality time focusing more on strategic initiatives. Companies can look to reskill them to prepare for new tasks and responsibilities augmenting their efforts rather than replacing them. This way the efficiency of robotics, AI and emerging technologies could be combined with human expertise to deliver maximum value.
4. Use of data-driven Smart Systems and Tools
In a highly data-driven work environment in the future, employees will have to ensure the right data is available for the smart systems to enable better decision making. We will witness more contextual and conversational tools that naturally adjusts to workflows, leveraging Advanced AI. Such smart systems learn from previous data and decisions to glean more accurate and relevant information, for better decision making.
Conclusion
When workplace location becomes largely irrelevant, enterprises can look towards hiring people from around the world, and we will see a hypercompetitive labour market, even more than we see today. What we are witnessing today is an interesting time in our history where companies across sectors and industries have to plan for future transitions in the workplace models, work structures and strategies. The workforce may need to take on new roles and become more adaptive to view lifelong learning as a significant element in their careers.  When looked at positively, the future presents better opportunities for people to advance their capabilities, up-skill, and re-skill to work alongside increasingly capable machines.
Want to gain further insights into 10xDS Digital Transformation solutions to enable a smarter and innovative workplace for the future? Talk to our Experts!