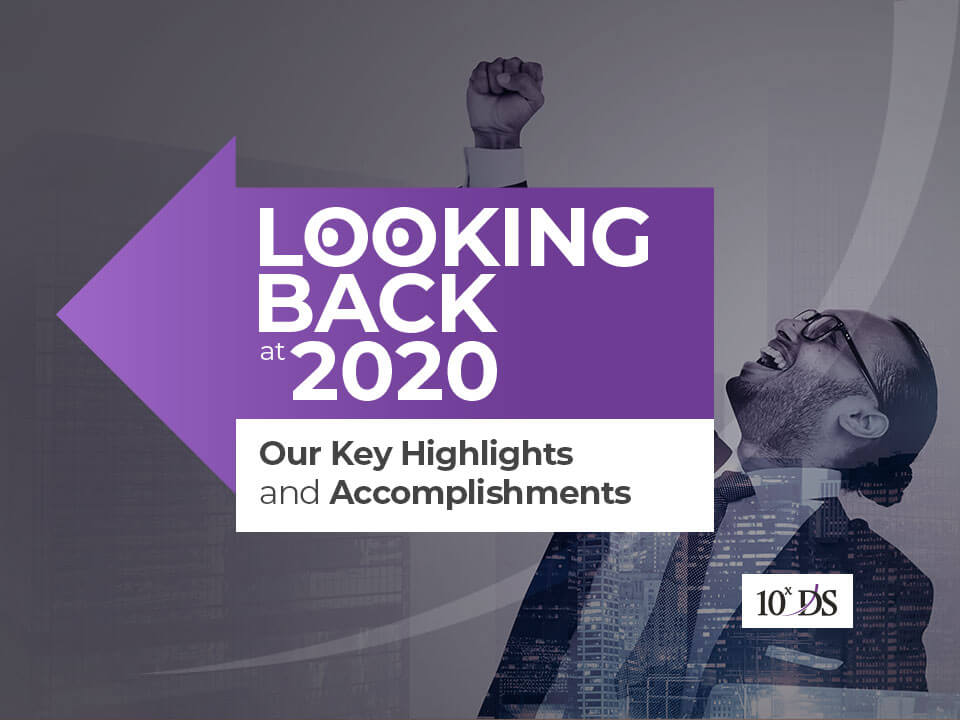 Looking Back at 2020: Some of Our Key Highlights and Achievements
No words can adequately describe the year 2020, as it was a year like no other. From the first reports of a new pandemic emanating in Wuhan, China, to its global widespread outbreak, this year will indelibly be etched in every human being on earth for many years to come. 2020 has been a year of disruption and the end of the year is typically a time to look back and reflect.
Let us look at some of the key highlights and accomplishments of 10xDS
Team 10xDS Rising to the Occasion
Team 10xDS took swift actions to ensure that operations continue without disruption and serve clients during the difficult times of the pandemic crisis. Switching to 100% remote mode and through remote work, we are still driving digital transformations for our global clients. As the team worked and have been working remotely, communication channels are always open for our colleagues to interact and collaborate, staying connected and working together. Apart from catering to the needs of the clients, the team indulged in an array of exciting challenges, contests, and activities online, helping them stay engaged and connected with an element of fun. 10xDS also set up a Chatbot to help share key information during the crisis to support the fight against the pandemic.
AI-Powered CV solutions for helping companies amid the pandemic
Amid the pandemic, several companies were facing difficulties in accommodating their workforce and ensuring their safety and security, to enable smooth operations. 10xDS AI-Powered Computer Vision and image recognition solutions offered solutions for real-life scenarios, thereby helping companies ensure safety, security, and compliance. Some of the innovative solutions include Intelligent Proctoring solution to help companies record and track all their employees, giving them better control over their functioning. Smart Space Utilisation & Occupancy Intelligence solution provides data on meeting rooms, floor, and desk occupancy, helping facility managers better understand the utilization to optimize the layout and allocate workspace to the workforce. Another useful solution is the next generation contactless attendance management system which enables recording of employees' attendance by detecting their faces via existing CCTV or IP cameras.
Emerging Strong with Microsoft Return to Workplace
As businesses around the world are looking to adjust to the new norm, team 10xDS leveraged Microsoft Power Platform Return to the Workplace solutions to help companies meet the various challenges and requirements of companies.  10xDS helps companies to harness the power of the Return to the Workplace solution to enable smooth and safe transition back to the workplace, offering comprehensive and reliable business applications such as Microsoft Power Apps, Power BI, Power Automate and others.
SIB wins UiPath Automation Excellence Award partnering with 10xDS
Our esteemed client South Indian Bank (SIB) won the prestigious UiPath Automation Excellence Award 2020, for the category 'Excellence in Finance & Accounting Automation partnering with us'. Our team was involved in the creation of a robust RPA ecosystem by automating several key processes of SIB. SIB had many manual time-consuming processes, and our solutions effectively simplified and streamlined them to enable better adherence to regulatory guidelines, lowering the risks and better monitoring of processes.
10xDS wins AA's 'Excellence in Business Process Automation – India' Award
10xDS won the prestigious "Excellence in Business Process Automation – India", and this recognition was part of Automation Anywhere's (AA) prestigious IMEA Partner Awards 2020. As an Automation Anywhere Partner, 10xDS leverages AA's state-of-the-art platform and Intelligent Digital Workforces to transform and streamline processes for enterprises worldwide.
10xDS PowerX team in MS Hackathon finale
10xDS Power Platform COE team made it into the finale of Microsoft Hackathon. " Touch Me Not", inspired by the new norms of the post-pandemic times, was the name given for the unique solution we developed and presented in the Hackathon. The most interesting part of the solution is the zero-touch interface offered for employees and guests to mark their attendance or register themselves to gain access to a facility. The solution leveraged FaceAPI, PowerApps, PowerApps Portal, Power Automate, Azure Function and Power BI.
Little Champs 'Get to Work' at 10xDS
When all the colleagues in our team were working online, their little ones were getting bored at home, and we felt they should also get some chance to showcase their talents. This is precisely what happened, 10xDS Talent team organized an exhilarating – virtual fun and learning session for the little ones of our 10xDS colleagues. The kids participated in some exciting art, craft, and fun activities such as making beautiful origami, kids singing songs and several other activities.
Conclusion
The year 2021 and the coming years may prove to be increasingly uncertain. However, it is quite certain that enterprises across the globe will continue to gravitate towards emerging technologies and solutions that can help them become more resilient and agile. The governments and companies worldwide will have to plan and adapt to the future transitions in the work structures and strategies, as there will be a significant shift in the way businesses, operate, requiring them to reshape workforce skills. Companies embracing the latest technologies such as Intelligent Automation, AI, IoT, Advanced Analytics and others, can reap the benefits of their digital transformations, thus enabling enhanced productivity, greater process efficiencies and better ROI.
Team 10xDS will start 2021 with the powerful strength of hope and well-founded optimism. We have a lot to look forward; to help businesses harness the latest technologies for driving digital transformations and empowering them to stay ahead of the curve.