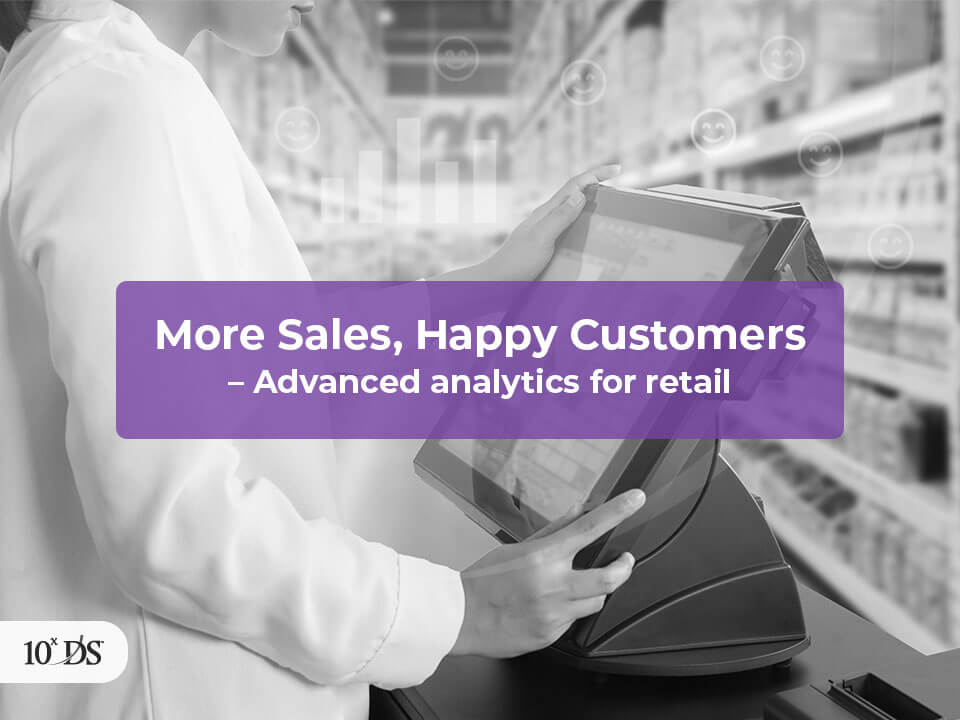 More Sales, Happy Customers – Advanced Analytics for Retail
The retail sector faces the fiercest competition with the emergence of e-commerce platforms and increasing customer expectations for lighting fast delivery and affordable price. Surviving and thriving in such a scenario is impossible without a technology-driven strategy.
Retailers have access to more data than ever from applications like e-commerce platforms, Point of Sale (POS), Customer relationship Management (CRM), among others, and they can consume it anytime, anywhere, and through any device. Advanced Analytics Solutions allow retailers to analyse these large chunks of data and convert them into powerful actionable insights.
Some of the key activities that retailers can try to do efficiently by using this data are:

Offering the products customers want at the right place and time

Making smarter pricing decisions

Avoiding out-of-stock situations

Adjusting strategy by identifying best and worst performing items

Making workforce efficient

Identifying and preventing fraud
Let's look at how advanced analytics enable these activities for retailers.
1. Customer Cultivation
Today's customers "interact" more than they "transact" and these interactions are via a variety of channels like social media, sales promotion campaigns, mobile apps, in-store sensors, cameras and more. Traditionally, customer information has been limited to demographic information collected during sales transactions. These traditional methods of analyzing customer behaviour and their purchase patterns need to be replaced with modern analytical models to improve the conversion rates and provide targeted and relevant promotions.
By correlating the customers' purchase histories, their behaviour on social media platform, new insights can be generated using technology enabled solutions using Advanced Analytics, Big Data, and Machine Learning (ML) technologies. Omnichannel retailers can use customers' purchase and browsing history to identify the needs and interests and then personalize promotions for the various segments, drive timely offers and incentives to tie the customer with a specific retailer.
2. Operational Efficiency
To retain customers, retailers need to give value to them at a very competitive price and to competitively price items, retailers need to optimize the cost. Maintaining the right level of inventory is important to curb the cost of warehousing. Insight on demand will help retailers enable optimized inventory cost and gain better customer satisfaction.
Advanced Analytics solutions can help to understand stock turn, sell through and weeks of supply and identify top and bottom sellers by:
Comparing sales with product placement and display
Analyze customer purchase data and perform market basket analysis
Compare sales by location
Anticipate & target
Analyze market data to understand trending products
Use historical data to predict future sales
3. Pricing
Pricing is the most important decision a store makes. With many competitors and eCommerce channels, if the pricing is not right, stores may instantly lose profits and even the business. Every store understands the importance of data in making decisions. A store can adjust prices based on real-time market conditions.
Pricing analytics can help stores understand internal and external factors affecting profitability at a minute level. It also gathers data from social media and analyzes them on customer sentiments and make them available to stores for informed decisions.
4. Targeted Marketing
Retailers would want to focus on reaching out to the right set of customers based on their propensity of buying an item in the near future. This can be derived through establishing the relationship quotient, product purchase sequence as well as the estimated need of the customers.
The usage of analytics can help establish the relationship segmentation by analyzing the frequency and monetary aspects of relationships with the accounts. The segmentation scheme is created based on the RFM characteristics, that is Recency – How recently did the customer purchase? Frequency – How often do they purchase? And finally, Monetary Value – How much do they spend?. Using this scheme, retailers can identify the sweet spot for the best customers. The next step is to analyze the association of the various product based on how often they are bought by the same customer
5. Customer Experience
Beacon analytics or analysis of the data gathered using Beacon Solutions will help retailers in creating better business insights, making improvements to the store layout, maintaining service standards and operations that will benefit both customer and retailer. This provides an opportunity for retailers to provide a much engaging Customer experience by sending contextually relevant, hyper-local, significant messages and advertisements on their smartphones.
The value derived out from beacon analytics is as below.
Leverage and gauge loyalty programs
Empower sales associates
Optimize store layouts, performance, and product placements
Footfall, online visits, visits through apps, heat maps inside a store
Enable personalized communication
Merchandising and marketing effectiveness
Service quality, queue, and cart abandonment
Capacity planning and resource utilization through mobile in-store combination analytics
Product & store attributes
Customer segments or demographic data
Conclusion
Even though retailers acknowledge the importance of incorporating data into their decisions, setting up the right systems and putting data gathering, data cleansing and data enriching methods could take some effort. However, when it's accomplished, the insights derived will make it all worthwhile and the ROIs realized sooner than later. Talk to our data experts to know more.
Also, please read our blog on automation use cases in retail.