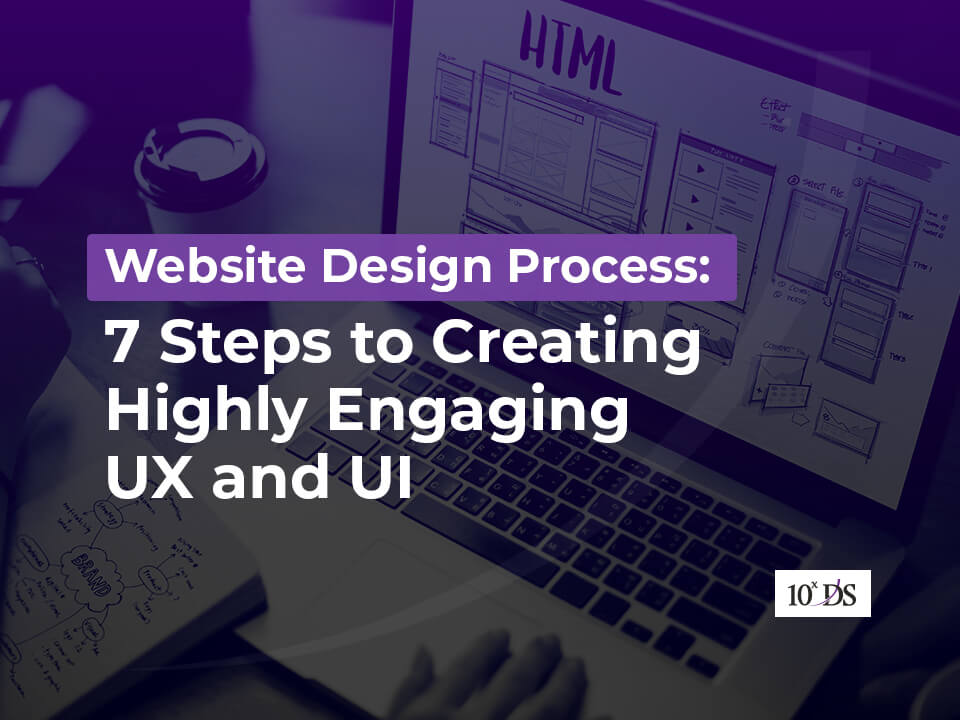 Website Design Process: 7 Steps to Creating Highly Engaging UX and UI
A well-designed website represents the brand and is often taken as a means to measure the quality of services offered by the business. This makes it crucial to design a user-friendly, attractive, and easy-to-navigate business website with the right mix of UI (user interface) and UX (user experience).
UI and UX shape the digital outline of a website and play a great role in how it will allow site visitors to navigate through its expanse and take the desired action. It can be termed as the balance of the best visual elements, graphics, content, site structure, and navigation to deliver a memorable user experience. Understandably, a difficult-to-navigate and shoddily-built website will not lead to any sales, but could even draw away potential customers. Therefore, you need to take the right approach to build an impressive and excellent website to have a strong digital presence and grow your business.
Steps to Creating Highly Engaging Website
Website designing can be a very complicated process, which is why we have simplified it into 7 steps to help you understand how to build an engaging and appeal website for your needs.
1. Set a Project Plan
Every successful venture starts with proper planning, and this applies to web designing as well. So, before you think of anything else, consider why you want a website and how it will help to boost your business revenue. Likewise, you should also have a clear idea about your specific requirements and what website features you will need to furnish those.
2. Research the Latest Trends
It is always wiser to know your competition, and study and analyze their strategies. At the same time, you should also keep an eye on the latest trends in the industry and identify which types of websites draw more potential customers in your genre. This will go a long way to help you achieve your business goals.
3. Create the Wireframes
The wireframe of your website will give you a detailed idea and visual structure of how the result would be. In this step, you will need to create the framework of your website and see which components suit your ideas well. You should also create content, logo, headers, and find the best theme and color scheme for the site in this stage.
4. Define Homepage Navigation
The homepage of your website should be created with due care and attentiveness to create the best first impression on your site visitors. Meanwhile, it should also have the right elements to make navigation easy and intuitive and take users to the relevant inner pages without any confusion. Make sure that the inner pages have defined titles as well to make it more user-friendly.
5. Design Other Website Elements
Decide what type of motions you want to include on the website and design the elements to make the UI/UX more interactive and engaging. You should always prototype and test your designs thoroughly to see if your ideas are implemented aptly in the design. This also allows you to adjust and improve until you are fully satisfied with the outcome.
6. Do the Coding
Once you have custom-built the UI/UX, start the backend coding to develop your website design. You can choose from HTML, CSS, JavaScript, or any other coding and script language to design the website. You can also build the website on WordPress, Drupal, Joomla, or any other content management system with the help of a page builder application.
7. Publish Your Website
After you have built the website on the desired platform, you will need to register the preferred domain name, get hosting space, and launch your website on the hosting server. You can always test your site, keep researching, and improve the UI/UX based on the latest trends after the site is up. This will also help you to fix any flaws in the system.
These are the 7 basic steps to get started with your business website.
Talk to our experts to clear any further doubts and build an attractive and functional website for your business today.